Jay Slater connects Natalie Portman to the Galil rifle (beat that Kevin Bacon) as he looks at this full metal King Arms AEG.
It was getting tasty… A little hot under the collar… Dodgy, even! Despite being packed and ready for an airsoft special in Israel in late 2012, the Foreign Office had other ideas. Thanks to an escalation of violence between Israel and Gaza – including missile attacks and a bus bombing a stone's throw from our apartment in Tel Aviv – the British Government recommended that we avoid public transport in Israel. Indeed, avoid anything that involved the public. Do not go to Israel. Which seemed to make it all pretty pointless. So we opted for the Algarve…
Israel is armed to the teeth; it has perfected offence and defence. Many of its neighbours in the Middle East despise it. Iran wants it wiped from the earth. The horrors of The Third Reich saw over six million European Jews exterminated in death camps (including one million under the age of eighteen) in a war that consumed over thirty-five million lives. Despite being the 100th smallest country, it is a nuclear power that refuses to be subjected to aggression and tyranny. Often striking first and asking questions later, Israel possesses an aerial arsenal of over 250 F-16s, making it the largest fleet of military aircraft outside the US. With a $100 billion economy that is larger than all its immediate neighbours combined, Israel is also the largest immigrant-absorbing nation. Israel developed the mobile phone; its capital is a party city; the Dead Sea is the world's largest open-air spa; and is famous for cut and polished diamonds, the Iron Dome, Uri Geller, Natalie Portman, the Jaffa orange and the Lemon Popsicle teen-angst movies. Not only does it make a cracking Yemenite bone soup to be washed down with a Ronen HaHodit HaMekhoeret India Pale Ale, Israel also invented the iconic Galil assault rifle.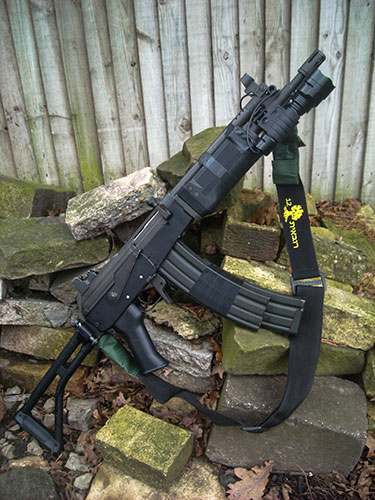 The Galil, based on the Finish RK 62 and the AK-47, came about after the Six-Day war of 1967. During the brief conflict the Israeli Defence Force (IDF) experienced issues with its main rifle, the FN FAL, due to the fine sand and arid conditions of the Arab battlefield. However, it was noted that the AK-47 was used against the IDF with success and it was decided to develop a new assault rifle.
Introduced in the early 1970s to see action in the next Israeli-Arab Yom Kippur war, the Galil was respected by friend and foe alike for its simplicity and man-stopping power. The basic platform mutated into a series of variations to feed the 5.56 mm and 7.62 mm round, including a sniper rifle and the MAR subcompact assault rifle, better known as the Micro-Galil. Its success was short lived, however. In the early 1970s, Israel imported large numbers of US M16 rifles and the Galil was superseded, its future use relegated to South American, African and Asian territories. Civilian versions are modified to fire a ten-round magazine and remains a highly collectable weapon on US markets, reaching over $3,000.
The Galil can be best described as a superior update of the ageing AK-47 design. With improved internals, left- and right-hand safety selectors, folding stock and superior front and rear sites – with efficient night-time accuracy at 100 metres – the Galil was something different. As the masses socked it out on the airsoft killing fields with M4 and AK-47s, I wanted variation upon a theme. Therefore, my very first AEG was the King Arms SAR Galil. This beautiful Israeli beauty comes in many shapes and sizes from the AR, ARM and MAR variants. Also, cheaper models can be obtained from TSI, VFC/Avalon and ICS while Inokatsu and Action manufacture additional kits. But we are here for the King Arms Galil, the sweet, refined lady that gives all.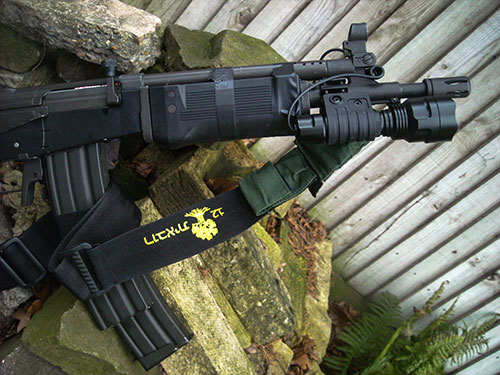 King Arms has earned a reputable reputation for a good reason; it manufactures excellent hardware that is reliable, accurate, constantly powerful and hard hitting. Reeking of top dog quality and components, this naturally came at a higher price (£450) when the SAR was a new kid on the block. Limited to 500 units, this is a full-metal slugfest. With official Hebrew markings, a 7mm gearbox, dummy left-side selector (does beg the question why this could not be 'live' as the gearbox would appear to be capable of doing so), a 9.6-12v battery that is housed in the gas tube and a 130-round metal low-cap magazine, this is Jewish airsoft wanderlust. Weighty, tough and sturdy, it feels ever so right as a field weapon. Also, the metal stock can be folded inwards for tight situations and even used, if necessary, as a side arm and in CQB to blitz interiors with its incredible high rate of fire.
On first inspections, the King Arms SAR Galil is extremely sturdy. Despite a small gap in the plastic handgrip – it is highly durable of strong materials and a metal base plate – there are no creaks or wobbles: this beautiful creature is built to last. As it is King Arms, no upgrades are necessary as it is a high-end AEG and single/fully automatic operation is very respectable with no jams or blockages. Each shot fed seamlessly bar a few remaining BBs. Range and power of around 330FPS was extremely accurate at over 100 feet (170 feet for general woodland operation) and its rate of fire is jaw dropping. The 14mm thread allows the birdcage flash hider to be replaced with silencer aesthetics and the crisp, electric blowback is pleasingly reassuring with a deafening metallic clack-a-clack-clack-a-clack as the gearbox and piston go hell bent for leather. Make no mistake, this is the King Tiger II of AEG Galils!
With official Hebrew markings, a 7mm gearbox, dummy left-side selector, a 9.6-12v battery that is housed in the gas tube and a 130-round metal low-cap magazine, this is Jewish airsoft wanderlust
But are the high cost and limited parts for King Arms a bittersweet thing?
RIS compatibility would have been appreciated; however, the King Arms model is faithful to the real steel. The electric blowback is not to all tastes (King Arms also produce a non-blowback version) and is admittedly an attractive feature that does not hold a candle to the solid, resonating clang, bang and wallop of a GBBR. As for spares, Firesupport were able to source whatever I wished.
So, what about the negatives?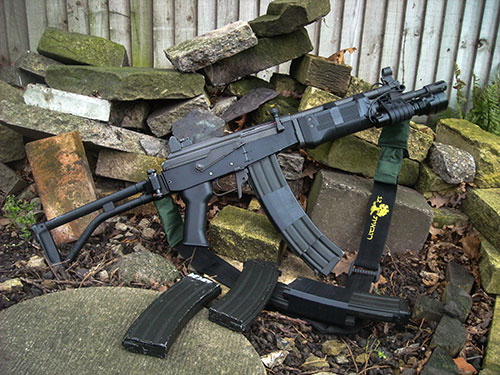 After three years of constant and demanding use, the King Arms SAR had its spring replaced after a lowering dip in BB whack. Two mid-cap magazines had seen better days, their internal springs shot to hell due to abuse. The fire selector came somewhat loose and was tightened internally. And that's it. The King Arms SAR Galil begs for more.
The preferred layout consists of two high-caps (400 rounds each) and four low-caps, the latter taped together for a faster replenishing of ammunition in the field. Also, an IDF Galil sling was purchased for that genuine Hebrew cordite razzmatazz. For further field modifications, King Arms promised a scope mount base that has yet to surface; however, a simple AK-47 side rail should not be an issue. King Arms also offer a beautiful wooden handgrip for those who want to further enhance and individualise their SAR beyond what is essentially a unique AEG in the first place.
The King Arms SAR… A truly astonishing AEG. Heavy like the real steel, this beast remains constantly on target with a cracking range and hits with a devilish glee – as opponents in the catacombs of Elite Urban Epsom can testify. Recommended to all without hesitation, the only bugbear is perhaps the cost this bella donna of AEGs commands. It is indeed expensive. With that being said, reliability, high-quality materials, workmanship and design as well as devastating performance comes at a price. What can I tell you? You pays your money and you take your choice.