With MOA now behind us we can reflect on all the new directions that VegaForceCompany (VFC) have taken with their ever-expanding range of licenced GBB rifles and carbines, and of course there were more new models that were launched at the show! Whilst this was all going on, Bill has been range-testing their M110K1 GBBR… and loves it!
A couple of years ago I had the great privilege of being among the first to get "hands on" the then-new SR-25 ECC from VegaForceCompany (VFC) and I have to admit that I was very loathe to hand back the review rifle as it was absolutely sublime! Sadly the model I had was one of very few in Europe at the time and had already been spoken for, and even with cash in hand it was a story that sadly didn't continue much to my eternal regret…
Roll on to now and my love for the ECC has finally been requited as some weeks ago I took delivery of the "MIL SR-25" GBB  option that VFC have released, the M110K1, and once again I have to admit that it was love at first sight, but thankfully this one is a "keeper" thanks to my good friend Ray Chang!
I find myself increasingly drawn to "large calibre" rifles these days (okay, in our reality they are all 6mm but still!) as there's something about the beefy magazine and the overall feel of them that I've come to love. I have also found myself embracing gas-driven rifles more and more too, and I put this down to the fact that during the pandemic I spent a lot of time on my own shooting on the range… and there's just something about a well-tuned and well set up GBBR that makes me happy.
I am hoping that 2023 is the year that following both my illness and the subsequent recovery process, and by the game-fallow pandemic years, I can finally get back out to some games; will I take one of my gas models to a MilSim, you bet I will, but to a regular skirmish day? Well, some say that a gas rifle isn't really a skirmish tool, and in many ways I'd have to agree on the face of it. I've always said though that a really properly set up gas platform can hold its own on a skirmish day if your accuracy and range are nailed in, and nowhere is this more true than when it comes to a DMR.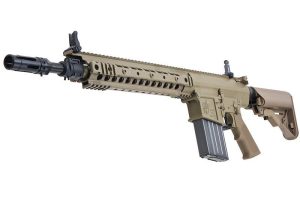 I've always been a proponent of the "DMR Rule", and in fact was one of the many that championed this "back in the day". Our rule at the time was that a DMR should be distinctive in both build and performance; yes, the power level could be higher than a regular AEG, but lower than that of a bolt-action rifle. The DMR had to be semi-auto only, running on a mid-cap or lower, and equipped with a suitable optic, and of course a Minimum Engagement Distance (MED) needed to be adhered to. It was a simple set of guidelines that allowed each squad to have a little extra "distance", and when well set up and effectively used a good DM could be a devastating "force multiplier" in game.
I've been playing around with DMRs ever since, and although I love my gas SVD (I put this wholly in squad marksman territory), I've always had a huge soft-spot for the SR-25; it was really the SR-25, a rifle adopted by USSOCOM as the Mk11 MOD 0 in May 2000, that caused my site to create a DMR rule in the first place although the Mk14 Enhanced Battle Rifle (EBR) AEG was also a popular model at the time; the EBR though was a true beast in airsoft form, heavy and unwieldy, so when SR-25 AEGs began to appear in the early 2000's many of us immediately grabbed one!
And yes, the SR-25 really has been around that long! Another lovechild of that genius Eugene Stoner, the original SR-25 was released in the early 1990s, but it was not until 2000, and after many trials and design-tweaks, that Knight's Armament Company finally got the Mod 0 into the hands of US elite operators, and the platform stayed valid (and in 6.5 Creedmoor is still valid, more on that later!) for many years. Some 180 Mk11 MOD 1 rifles (Mk11s equipped with the upper receiver of the M110 Semi-Automatic Sniper System (SASS) were ordered by the USMC during the Iraq War, (the M110 SASS was again manufactured by Knight's Armament Company and developed from the SR-25) but these saw limited action before they were phased out when the USMC chose to purchase the Mk11 MOD 2, which was simply the USSOCOM and US Navy designation for the complete M110 rifle.
Around 2012 there was talk that the SSR Mk20, the marksman variant of the FN SCAR, would replace the SR-25 but that proved not to be the case, and by 2017 the SASS was still rolling, albeit mostly with Special Forces elements like the MARSOC and the USN SEAL Teams. There was a little controversy when the M110A1 CSASS (Compact Semi Automatic Sniper System) or the M110A1 SDMR (Squad Designated Marksman Rifle) was taken into service to supersede the SASS, as basically this was, and is a re-engineered semi-automatic precision rifle chambered in 7.62×51mm NATO and manufactured by Heckler & Koch (H&K), effectively the G28!
AN SR-25 FOR TODAY
For many the airsoft SR-25 became "the thing" after the release of the movie "Lone Survivor" in 2013 as of course it was perceived to be the rifle used by Marcus Luttrell and Matthew "Axe" Axelson during "Operation Red Wings"… before you shout out, I KNOW that this was actually the Mk12 Mod 1 SPR, a very different beast indeed, but many airsofters at the time thought "SEALs, must be an SR-25…" and ran with that. I know that the purists out there will be silently screaming when they read this, but although I knew the SR-25 was the wrong rifle for a "Red Wings" loadout I did see some utterly righteous takes on the theme with that platform!
However, as with the real world time moves on, and although that CSASS program has rolled on the SASS was still very much at home with SOCOM elements! Now I mentioned 6.5mm Creedmoor earlier, and this is a round that will "accommodate bullets with far superior ballistic coefficients, resulting in flatter-shooting faster rounds. 6.5 Creedmoor is also generally held to have less recoil despite increased velocity" (credit to Charlie Gao on www.realcleardefense.com for this) which are of importance to any marksman. This brings me neatly onto the M110 K1, as the "K1" in relation to the SR-25 is all about the upgrade to the existing M110 with the M110K1 upper conversion kit. Again, Charile Gau in his excellent article tells us that;
"(USSOCOM) adopted 6.5 Creedmoor as a precision rifle caliber in 2018. During the trials that lead to the adoption of 6.5 Creedmoor, versions of the M110 and FN SCAR-H chambered in 6.5 Creedmoor were used to evaluate the shooting characteristics and reliability of the round. But the adoption of the round didn't come with the adoption of a rifle to go with it.
"The M110K1 changes this. While the M110 and CSASS were both optioned as conversions to 6.5 Creedmoor when the caliber was adopted, the M110K1 upper receiver was probably adopted as simply replacing the upper receivers is cheaper than developing a version of the CSASS in the 6.5 Creedmoor."
In turn, VFC tell us…
"While the U.S. Army is replacing the M110 to H&K's M110A1, US Special Operations Command (SOCOM) is planning to upgrade its M110s with the upper conversion kit called the M110K1. Although within the U.S. Army it is a new project (CSASS) for future warfare environment from 2016, the Special Forces Raiders under the Marine Corps Special Operations Command (MARSOC) are already using the KAC M110K1."
And there, in a nutshell, is just why the new VFC gasser is such a crucial part of firearms and military history, as it provides airsofters with what is effectively the very latest marksman rifle used by the top-tier operators in US Special Forces, and the K1 is likely to remain the exclusive property of "The Operators" for the forseeable future!
BREAKING IT DOWN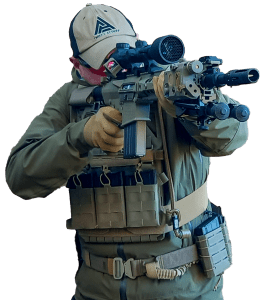 When I look at the new K1 I am staggered once again at just what an elegant rifle it has become in its modern form! It looks like everything is where it should be, and there's nothing that doesn't need to be there! It's slimline and of a good length (900/980mm with the CRANE-style stock) and weight (3090g) so it feels that although you have an "Enhanced Combat Carbine" it's one that feels like it is tailor-made to thrown round in-game!
VFC also tell me that:
"The barrel of the M110K1 is only 16 inches, but this short-barrelled large-calibre rifle is still stronger than the 5.56 NATO in terms of range, accuracy and damage. And the short-barrelled rifle can also be used for CQB environment; according to "the memory" of a Delta team member, he used a 16-inch .308 (referring to SR-25K) in Iraq, and fired a shot indoors… "it can shock the enemy and make their ears bleed!"
So yes, it's short and even with the distinctive KAC muzzle device it's not that much longer them your average M4A1! Where it IS different though is in the build-quality which is HIGH above the average airsoft AR, and to start off with the VFC M110K1 is built under licence from Knight's Armament Company so it has FULL pattern markings and trades to give it a real high-quality "feel" from the get go. The pattern marking and trades throughout are first rate, and I'll even forgive the "7.62" on the lower, as of course for the 6.5 it's the upper that's the important part! As with the SR-25 ECC the K1 is a 100% faithful replication of the real thing and features all the correct markings; anywhere you see a trademark or a marking it will have been replicated from the real deal.
VFC have especially adopted a new version of CNC post-processed aluminium in the upper and lower receivers that has been re-strengthened, and will be better able to withstand the recoil from the working parts (again, more on this to come!), and the receivers feature ambidextrous controls with a lightweight "dimpled" outer barrel inside a KAC SR-25 URX 3.1 13.5″ handguard with KAC style folding micro sights. All the major components are finished a matt FDE with a military-style sand coating which is absolutely impeccable, whilst there are some standout black parts that really make the K1 a proper "looker".
So outside it is an absolute beauty, but inside things just get better! VFC have REALLY continued to refine their internal operating system to get the very best performance currently possible from their platforms, and the K1 benefits from their excellent GBBR fire control system; this includes steel controls, an anti-damage hammer to enhance durability, and the bolt also has an added-steel anti-impact Bolt Carrier Reinforcing Block and High Ductility Plastic Nozzle Set to increase performance and lifespan. The K1 also features the latest patented "GuideHOP" which allows you to adjust the hop up using an Allen key directly on the gas block!

So, in summation the M110K1 is as close to the real deal as you'll find anywhere, and everything is nailed down to look and feel exactly as it would on the real thing! Like the ECC it has a full-travel BCG with some real "oomph", and once again this replicates exactly the operation of the military rifle so your drills are 100% the same. Realistic field stripping is a major feature of the VFC GBB series so even the "modern re-enactors" should be happy here…
With absolutely first-rate build quality and superb materials, the K1 is awesome in all ways! Even the magazine (although it only holds 20 BBs again!) is brilliant, with the fill valve is located on the upper rear face so when the magazine is inserted you wouldn't know it was filled with gas and not rounds; all in all it's pretty much my dream rifle!
DOWNRANGE
And when it comes to shooting, the K1 is an absolute, out and out ass-kicker! I initially took the rifle to my usual 30m woodland range to chrono and test, and in terms of power I got a consistent 1.86 Joule/449fps on .20g VORSKs using V6 gas, which is even more powerful and efficient than the ECC, but a bit edgy for some sites! With .30g the accuracy was stunning at that range, and moving up to .40g… oh my! Yup, at 30m the K1 was hopping .40g flat and true…
The following day I popped up to a local range to test out the K1 at greater distances and decided I would settle on .36g for "field use", fitting the rifle out with some accessory parts from my NUPROL "box o' tricks! I added a "kill-flashed" NP OPTICS 3-9X50 IR sight on a TACTICAL SCOPE MOUNT with a 45 degree-mounted NP MICRO RDS as a back-up (FDE of course!), a Harris-style bipod and an NPQ15 LIGHT/LASER BOX – TAN  to round out "the look". I paced out to 70m and then had at it prone, and after a little minute adjustment of the GuideHOP I was happily banging 12×12 steels time and again!
And oh boy again! As Stu said when he looked at the VFC LAR (FAL), the K1 is LOUD! It's loud enough that on the woods range I really felt like I needed a suppressor… a real one! Okay, given the power level there was always going to be an audible muzzle report, but the noise of this thing is truly staggering… add to that the sheer mass of the BCG cycling (remember that reinforcement I mentioned?) and shooting it is quite the experience! If you're thinking of using one of these to be all "sneaky sniper" then think again… this is a direct action animal at MEDs, and again I LOVE IT for that!
With the looks and performance available in one GBB platform I'm kind of wondering where VFC will go next, as they seem to have everything pretty darn nailed right now in my opinion. The M110K1 is, again my opinion based on my experience with many GBBR platforms, as good as it gets when it comes to an out-of-the-box gas DMR and I shall be hanging it proudly next to my VFC Mk18 CQBR when I redo my office gun wall.
I don't know how VegaForceCompany do it, but they keep upping the stakes in just how cool an airsoft replica can look, whilst at the same time continuously pushing performance boundaries! Whatever you're doing VFC, keep on doing it, as I for one want to know just HOW far you can push things. For now though I am looking forward to securing myself a few more magazines for the K1 and getting this bad-ass rifle in game!
As always my sincere thanks go to Ray and the righteous team at www.vegaforce.com for creating another GBB work of art… LONG MAY IT CONTINUE!