The G33 is another G36 without a license. Scott Allan asks "What can ICS do different from everyone else?"
ICS have a strange place in Airsoft for me as I cannot say I have seen a really bad one. I know a lot of players swear by their products and they have been around for a long time, which is always a good sign. I have owned a few but they have never truly given me the wow factor that the likes of G&P does. But then this is not all about wow factor, is it?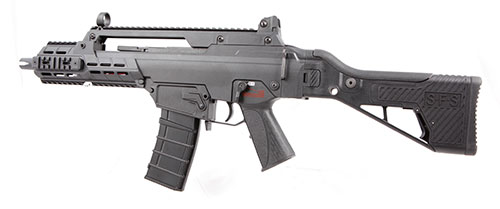 The G33 comes in two colours, Dark Earth and Black which is good for a start. It is a kind of futuristic G36C and ICS went to town making it look a little bit more… Well… "Gucci".
The real G36 is manufactured by Heckler & Koch and dubbed an Ultra-Short Assault Rifle. Chambered for the NATO 5.56mm round, it is a versatile platform used by police and military all over the world, including here in the UK. One 'drawback' is the unique magazine that the rifle uses, it is extremely reliable but it is a pain to store in pouches and it does not accept the standard magazines from the SA80/M16 range. That aside the field testing of the rifle has proven that it is reliable and tough in all conditions. Being a largely polymer body it keeps the weight down but it does not compromise the strength. Firing the G36 is a genuine pleasure and it is comfortable. The sight stays neatly on target regardless of how fast you pull the trigger. So safe to say the real version is something to be happy with if you have been issued one.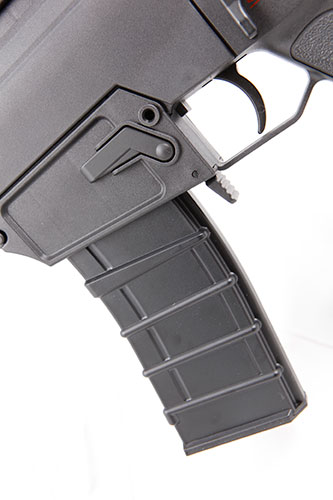 The design of the G33 is unique to ICS, most likely to get around the whole H&K trademark thing but then at the same time, the design isn't too gut-wrenchingly bad. Personally I like the G36 to look at – I have never really enjoyed using one but the design works for me. In the same way the Masada looks nice but I can never really love them for some reason. The G33 has an unusual stock that is adjustable in length and height for the cheek rest and it still folds to make it extremely short. Good stuff all in all. The fire selector is ambidextrous like the other G36 versions and feels nice and positive, unlike the JG versions (which kind of just wanders into different positions like a sheep casually grazing). The pistol grip has a slightly different design but is nice and comfortable. The magazine well, interestingly, has been designed to take regular TM style M4 magazines as standard instead of G36 magazines. The magazine release works as per normal or via a M4 style button. All the rails are polymer which is a little disappointing but, that said there is a lot of rail spare for extras. The battery is located in the front hand guard as per normal. The locking pin sports a sprung catch which means it shouldn't fall out, unlike many of the standard G36s out there. Removing the hand guard reveals a big let-down for me. The flash hider and 'outer barrel' are plastic. Not that there is much of an outer barrel, almost none at all in fact. Just a little plastic formed gas tube and then you can see your inner barrel. Looks like a corner has been cut here! I have no idea why or how many pennies were saved but it really cheapened the look for me. It's it not a critically important part but a surprise none the less.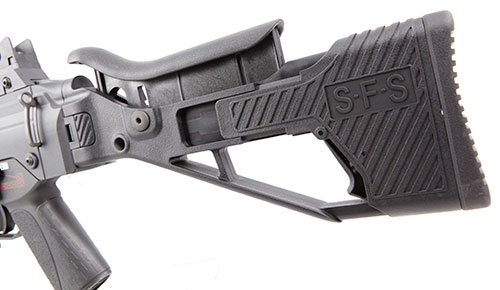 I know it is an ICS so I do not expect a massive rate of fire but I am hoping for good accuracy and consistency. With a Blaster 0.20g BB it registered an average or 333fps so that was perfect. I fill up the Canada-style Thermold magazine (which I think looks cheap as Christmas selection box plastic), set up on the 25 metre range and try single shot. The trigger response is decent out of the box, although there does not seem to be any form of positive engaging point and it is a fairly long pull. It feels like you just swing it back and it shoots – there is little resistance. Not a major complaint, just an observation. All the shots land neatly in behind each other very much like the Sig 552, and then testing the fully automatic again shows a very tight grouping. So, despite some cheapish feeling parts the overall accuracy was above average for an out of the box gun.
So it is lightweight, short, fairly adaptable for different players and shoots above average. Downside for me is the amount of polymer used and just how tough the outer barrel/gas tube parts would be in the event of a nose dive. I doubt the spares would be expensive or difficult to source from an ICS dealer, which is also worth mentioning. The magazine and hop unit well appears to be bespoke which means no magazine well conversions to use standard TM style G36 magazines. Strange, but there you go.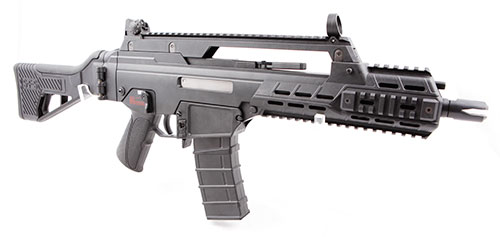 Gaming with this would be a treat I am sure, the accuracy and number of rails means it is a good all-rounder for outdoor and indoor sites. Personally I do not like those Thermold magazines, they look nasty and feel cheap but it is a high capacity magazine so if you are new, then it is a bit of a bonus. The batteries are mini NiMHs or the 1200-1300mah LiPos. Personally I am big on the LiPo batteries these days. The "what if it catches fire" crowd seem to be disappearing slowly yet surely with the reply "what if you are in a plane crash". It is very unlikely so we do it anyway.
In conclusion
If I wanted a G36 replica I might be tempted by the G33 but I prefer accurate to Real Steel weapons. G&G and ICS are both moving to these futuristic "near-copies", which is fine so long as someone is making the Real Steel copies for guys like me. I certainly wouldn't discourage anyone who likes the G33 from buying one as the performance is good and the price is fair. My biggest grumble is probably the amount of polymer used in places where a little metal would have gone a long way.
Features
Muzzle Velocity: 310-350 FPS
Magazine Capacity: 300 Rounds
Package Includes: Gun, Canadian C7 high cap Magazine
Weight 2.5kilos
Length 515mm (folded) – 745mm (unfolded)
Expect to pay around £220.00