Scott Allan gets to grips with WE's M&P to see if it delivers on what it seems to promise.
"Smith & Wesson Military & Police 9mm"… Who actually names these things?!
Are Wei Tech laughing in the face of Tokyo Marui after beating them to release the M&P 9mm?
WE have been making budget pistols for a long time but more recently some bizarre evolution occurred and they didn't just make heavyweight pistols that felt good to hold but also stood up against the big boys at KWA and TM. The first of these newer pistols were the XDM and the Glock Gen 4 that I noticed. They were very snappy and they held a good charge of gas, to the end of the magazine in most cases. Best of all, the prices haven't really changed.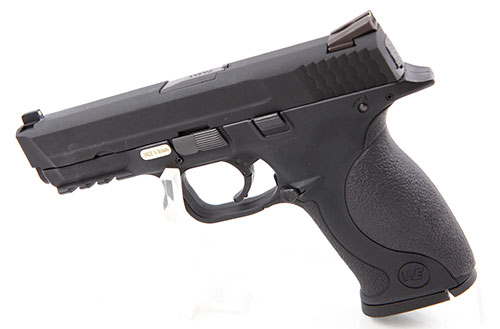 TM promised a M&P pistol a couple of years ago and did not deliver. Now WE have produced something that looks nice but is it worth the excitement?
The Real Steel version is a Zytel polymer framed, lightweight military and police pistol (no surprises there). Released in the middle of the last decade it sports some lovely ergonomic design features and a low profile top slide. The trigger is an unusual feature in that it is a jointed trigger, meaning half way down the trigger there is a hinge that allows the trigger to move further into the full firing position. A safety feature not entirely dissimilar to the Glock trigger safety. The real version, like many pistols these days, comes in a variety of calibres. S&W proprietary round is the S&W 0.40 cal, 9mm, 45 ACP and 357 SIG. All in all what you would expect from a modern day pistol aimed at that particular market.
Externally the pistol sports the wow factor. The box, while I do not normally even comment on boxes, depicts a couple of Toucans… I have no idea why but it made me chuckle. Opening the box you either see your black or dark earth lowered framed pistol, along with a selection of six grips! Small, medium and large in the lower frame colour or…. erm… pink. Why? I dunno! I don't pick the colours, I just review the pistols. Anyway, changing them is quick and easy which meant I found medium was best for me.
I really think this is one of the best pistols that WE have ever produced, I also think that at the price it is one of the best valued pistols made at the moment.
There are no trademarks, which is a shame but considering the whole package cost less than £100 I won't complain too loudly. There are WE markings on the lower pistol grip and 9mm engraved on the breach. A nice touch that I noticed was the unique serial numbers ("WET" and five digits). It also has a fully functioning ambidextrous slide release, which is good for both right handed or left handed players and, to top it all off, a 20mm rail for pistol lights or lasers.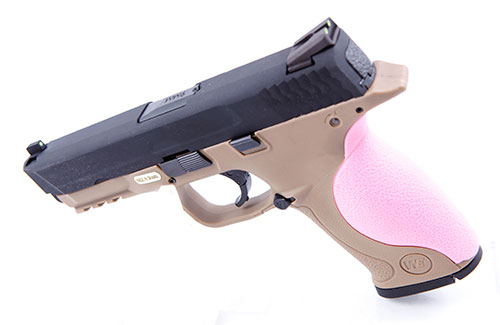 I never expect a great performance from a pistol at the best of times and I expect slightly less from a WE. This one did surprise me, the slide blasted back sharply and crisp after a quick gas and pull of the trigger. I smiled and got all excited as I loaded the 24 rounds into the magazine. It blasted through the first 20 rounds and then struggled with the last few but still locked back. Given that the warehouse I tested it in was only around 15 degrees I could not complain at all. The only thing I noticed is the hop up wheel does not move. This is a factory design flaw and after a quick look on the internet we found a fix which involved a tiny bit of filing and it works great now. The chronograph read an average of 300 fps on a Blaster 0.20g BB which is fine by me.
I really think this is one of the best pistols that WE have ever produced, I also think that at the price it is one of the best valued pistols made at the moment. Few offer so much performance, looks and consistency for so little money. For a company I went off for a good while they are really turned around and started to impress me again. Even the spare magazines are reasonably priced at around £25 a mag. The standard WE 1911 14mm CCW thread adaptor does fit to, so do not be surprised if you see someone dual wielding these with silencers very soon.
At the time of writing I had not had the chance to use this in a game which is a shame. But I do have high hopes for it, maybe not on cold damp days but then that is true for almost every gas airsoft product on the market today.
In conclusion
If you need a pistol, look no further. Genuinely I am wholeheartedly impressed and this is coming from someone who runs a NBB P99 because I was sick of expensive magazines and pistols that didn't really live up to the hype.
For the price tag is a bargain and it is something different from the Glocks, 1911s and Sigs that pollute our sites!
Features:
Hop Up : Adjustable
(once fixed)
Shooting Model:
Semi
Muzzle Velocity: 300 FPS (0.2g BB)
Magazine: 24 (6mm Airsoft BBs).
System: Gas Blowback.
Includes: Gun, Magazine and six grips