Chris Costa has been seen promoting the LVOA rifle and now Scott Allan gets his hands on the first airsoft version from G&P.
From G&P, the masters of the universe when it comes to M4s, we have…. another M4! With the very catchy description GP-AEG072BK the new G&P War Rifle, or GP-AEG072BK, is quite a thing of beauty. I have never been very keen on the micro/pistol M4 scene and while some people love them, I'm a long gun fan. From the wire cutter style sleek front end to the ambidextrous magazine release the War Rifle is stunning.
Who are G&P?
G&P are based in Hong Kong and while their background is firmly set in the M4 market, they do make some outrageously lovely M249s and MK23 Stoner rifles too. Going back over ten years ago, they only made extras to enhance the Tokyo Marui replicas but in the last decade they offered complete packages. As we burst into 2015 we have seen a large number of their M870 shotguns (which are stunning but only single shot) and the new M4 recoil rifles that this rifle unfortunately doesn't have.
The Real Deal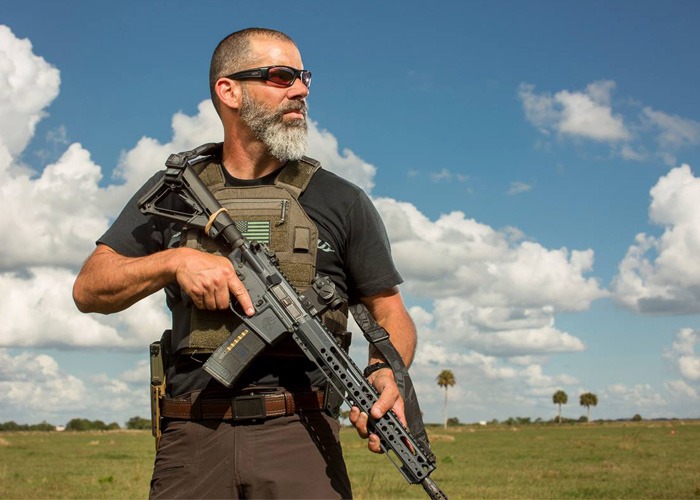 The LVOA, or Low Visibility Operations Application, made by War Sport Industries in the US sports the Wire Cutter rail. Chris Costa has recently been heavily into the promotion of this rifle while slinging untold amounts of 5.56mm around the ranges he teaches on. The LVOA has been set up in a trade agreement with Krytac already for release in 2015 but it seems G&P have beaten them to the finish line with a not quite 100% version of the rifle, yet it gives the overall impression. The real version retails for a mere $3,050.
In recent years the airsoft market has been stormed by numerous Chris Costa related items, such as Salient Arms pistol slides when he adopted the golden barreled look but the upcoming product had yet to be seen in the airsoft community. This rail system had grown in popularity ever since the debut of the Transformers 4 movie. Not only that, Chris Costa himself has recently switched to using the LVOA rail system from his old URX4 rail system and many other rifle users are starting to adopt this rail system on their rifles too.
Who is Chris Costa?
Some in Airsoft will speak ill of Chris Costa but really they have little right to do so. He was a US Coast Guard for many years before moving to Magpul with Travis Haley. Since then they have moved separate ways with their own brands being established. There is nothing I could find fault with in Costa's career path or the tuition courses he runs. He's a charismatic and articulate shooter which can only ever been a good advert for the industry as a whole, rather than some toothless bumbling redneck with his arm held a bit too tightly around his sister.
The Airsoft Version
G&P make pretty much the best full metal rifles in Airsoft. This version is no exception, a front rail styling may not be 100% accurate like the recently released Angry Gun version but it sure looks awesome. The Troy style sights I like but I do slightly prefer the Magpul or Diamondhead sights at the moment. The adjustable crane stock is quite standard and nothing overly exciting. The magazine is the G&P own style polymer "PMAG", which is okay but again not as cool as the PMAGs we used to see. The metal body sports an ambidextrous magazine release for faster reloads and three rail covers for the front to help you grip the system.
But what about the important stuff?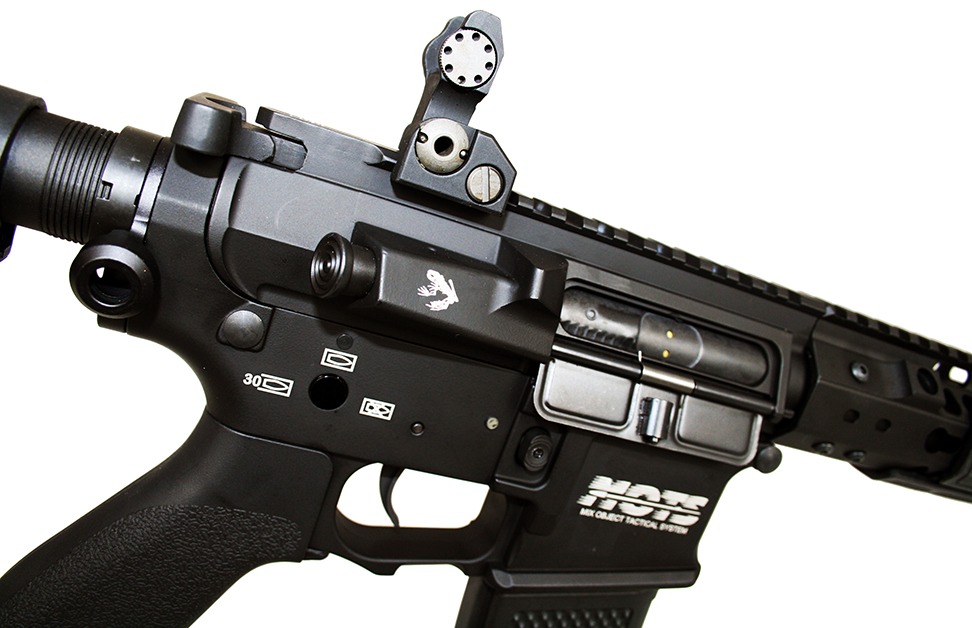 G&P always make a high end rifle, but what really gets the blood pumping is the M120 high speed motors that are fitted as standard. G&P are by far the fastest out of the box rifles on the planet. Nothing else even comes remotely close except the Tokyo Marui High Cycle range.
Internally they have a 8mm bearing gearbox so they can withstand you tinkering types with upgrades. Out of the box most G&P rifles are on the warm side, anywhere from 350 up to 420fps although most respectable companies will downgrade these for free if required. The inner barrel is the bog standard 6.08mm barrel, which is the same as TM and ICS. With companies such as G&G shipping some rifles with a 6.03, the standard brass barrel of a G&P is always something I would change as quickly as possible for either an Ultimate or Prometheus 6.03. While it is not necessary the rifle will often easily run an 11.1v Lipo albeit at a outrageous 1200-1300 rounds per minute. Always best to check with your warranty provider before doing this.
When you have an overall look at the rifle it stands out as a good deal. Okay the polymer magazine isn't a PMAG but then they aren't available now anyway, unless you consider the new PTS EPM magazines. It does have the Skull Frog marking which is a nice touch and it is a similar PMAG material. All this says to me that G&P are adapting to the market situation. The M120 motor is a solid performer for G&P and will give you a good rate of fire. A slight shame this version doesn't sport their new recoil system.
Like many players out there I look at my upgrade options on any rifle I buy. This is just gagging to have to the new Gen 3+ ASCU fitted and with plenty of stock space you won't be short on battery life either. Tight bore barrels are always worth a look at to, especially the Ultimate 6.03mm or Madbull 6.03mm which are good value and performers. If you have more money to splash have a look for a Prometheus 6.03mm. The gearbox itself is pretty sound and you shouldn't really have to change anything there unless you are going for a dedicated high speed set up.

Use in the game field
A lightweight and very easy to use rifle with an 11" barrel, it would be equally well suited indoors and outdoors without getting caught up in everything. Personally I would have some form of front grip fitted to help my aiming out. The adjustable stock while good, I would probably swap out for a Magpul MOE or CTR stock. I do personally like an 11.1v Lipo battery in a G&P which gives a frightening rate of fire and a quick trigger response for close range. It is not that I want to hose endlessly but at range I do always like the quick 3-4 round bursts to ensure my target takes the hit quickly and without fuss.
Conclusion
So yes, this is yet another G&P M4, which is about their millionth design but if people didn't buy them they wouldn't make them. They keep ticking the boxes so they keep doing slight design tweaks and variation with the latest designs, which keeps the format fresh. The reliability and build quality of G&P is hard to surpass, they may not have all the internal bells and whistles that the new G&G Gen 3 rifles have but then at this price it is not a massive surprise either. Given a standard front rail can easily cost £90-100 for a quality product (I do not consider ACM, DBOYS or JG to be at the high end of rail manufacturing) then this rifle really is very good value. It is a shame it doesn't sport the recoil system and that the rail isn't quite 100% the LVOA style but the overall look is achieved – even though I can't grow a Costa style beard.
So if you are looking for a good offering from G&P it will not get much better than this.
List of Features
Included
Magazine Capacity: 130 Round M4 magazine
Length: 695mm / 775mm
Weight: 2950g
Built Material: Metal & ABS
Inner Barrel Length: 292mm
Gearbox: 8mm Bearing Gearbox
Motor: G&P M120 Hi-Speed
Battery: Advised using 7.2v LiPo or 8.4v NiMH Battery
Expect to pay: £335
-MOTS Metal Body (Black) (MEB014BK)
-MOTS 12.5″ Keymod (Wire Cutter Design) (KEY008H)
-11″ Aluminum Outer Barrel (COP073A)
-M4 Flashider (Clockwise) (GP087C)
-Angle Gas Block (OTH023)
-Ball Ball Mid-Cap Magazine (Black) (130rds) (MAG007BK)
-TD M16 Grip with Heat Sink End Set (Black) (GP711B)
-BUIS Sight (Black)
-Crane Type Buttstock (Black) (COP068BK)
-Extended Stock Dual Sling Mount (GP878)
-Keymod Soft Rail Cover B (Black) x 3 (COP058B)
-Manual
Included:
-Skull Frog Type Metal Body (GP707)
-SR16 URX RAS
-M4 Flashider (14mm Clockwise) (GP209)
-Ball Mid-Cap Magazine (Black) (130rds) (MAG007BK)
-Ball Grip (Black) (COP039B)
-Military 600m Flip Up Rear Sight (GP254)
-Polymer Trigger Guard (Black) (COP012B)
-Ball Buttstock (Black)
-Ball Soft Rail Cover (Black) x 3
-Manual