A lot has happened since Bill started keeping his detailed VORSK Diary at the back end of 2019, and time seems to have stretched beyond belief in some ways! When he first saw the initial pistols though he knew that he was witnessing the manifestation of a project that he'd seen through from the initial concept through to reality… and then keep on rolling! With some new variations of the VORSK HI-CAPA now available, Bill now looks back, and forward at the program.
I do believe that every airsofter must dream of being involved, even if it's just in a small way, with the development of something new in our wide world of 6mm shooting, and I've been very lucky and privileged to have had such an opportunity with VORSK.
Now it seems that more and more regular airsofters like yourself are also now enjoying the opportunity provided by VORSK with plenty of positive voices on skirmish day and on social media, and it truly gladdens my heart. When VORSK first appeared on the scene there were detractors aplenty, but let's face it, there are many out there in unsocial-media-land with vested interests and agendas (often paid for) of their own, and a small (at the time!) UK-based company having the audacity to enter the GBB market was a lazy and easy target for their "Dane geld" purchased ire.
But my good friend Ross and the team behind VORSK did have the audacity, passion and the belief in their products to challenge the status quo, and if we look at the vast range of VORSK pistols now on offer it certainly appears to me that they were right to do so, and I'm not alone in believing this. If you check player conversations online they are almost exclusively positive when it comes to VORSK pistols amongst the user-base, from airsofters who actually play airsoft most weekends with an almost religious fervour.
VORSK has undoubtedly become one of the leading GBB pistol brands throughout Europe, with its sights firmly set of the wider world, and it rightfully deserves its place there. I've been hammering every single model since their release, especially during the dark and lonely days of the pandemic when our airsoft adventures were curtailed and pushed back to simple, solitary range work if we were lucky, and with many thousands of BBs down their barrels they are all still performing exceptionally well with just minimal maintenance.
And the VORSK range has caused me to have a little bit of a personal epiphany in that I have re-embraced the Hi-Capa after many years of being a dedicated Glock and "not a" fanboi. I guess my personal airsoft tastes have changed as I've got older, and although I don't skirmish or take part in MilSim games like I used to I still love to shoot, and as I'm lucky enough to have an outdoor 30m range that I use for all my testing in some private woodland owned by friends just 15 minutes-walk  away across country from my front door, even during the lockdown I was able to get there without meeting a soul along the way, and once there I'm able to shoot for as long as I want to stay out!
Nowadays I'm not going for that out and out "Mil" look that I ran for many years on the skirmish field enabling me to have a lot more choice when selecting my sidearm. Although I still love my Glock, if you were to catch me on the range these days you'll often find me with a VORSK Hi-Capa in holster, or in hand. This is down to the continued reliability and performance I've seen from these models and I don't see a change coming anytime soon.
MORE VORSK, MORE!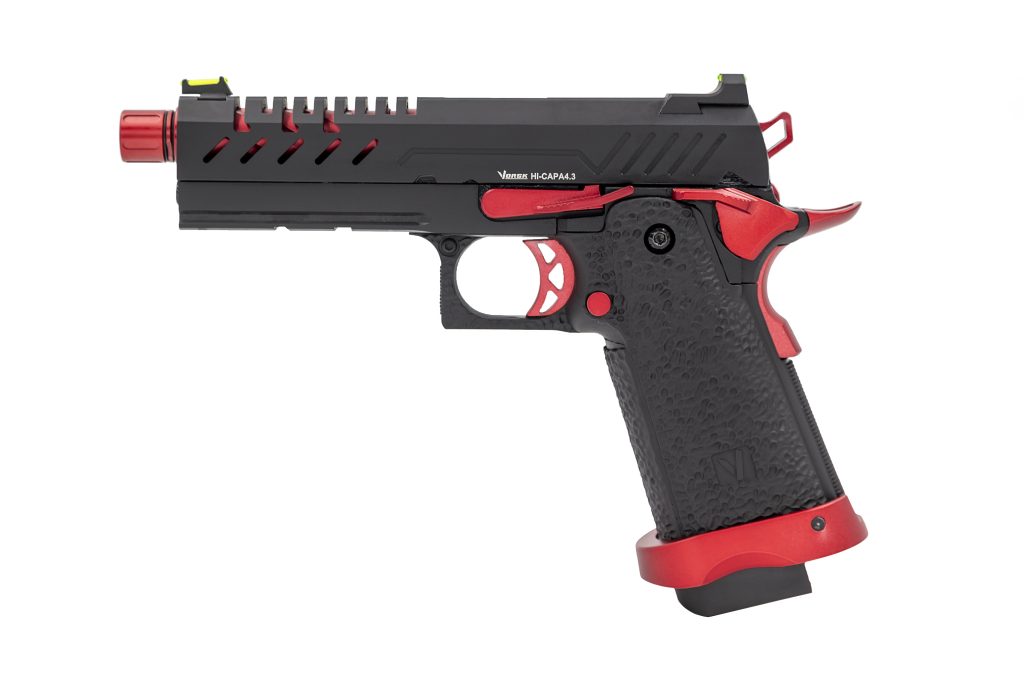 Of course the VORSK Hi-Capa range continues to grow and grow, and at the same time it moves forward as tweaks and improvements are made at source as new materials and technologies become available. Over the years I've seen a "norm" where a manufacturer creates a new GBB pistol and brings it to market… and that's it! Its then down to companies producing after-market parts (lawd bless 'em!) and you, the airsofter, to make improvements on that basic model.
Not so with VORSK as development and improvement is a fundamental tenet of the entire program. Yes, of course existing older models are as they are given the materials and technology that were available at the time of their creation, but even existing models in the VORSK range are "tweaked" as new things appear, and newer models benefit from these improvements from the get-go.
I spoke to Tom about this and he told me;
"We're rather proud of the VORSK Hi-Capa range. The 4.3" & 5.1" models were part of VORSKs launch and as you know they're excellent, consistent performers. I remember when we first put them in the hands of the public at the British Shooting Show in February 2020 (the last bit of fun before COVID shut everything down); we had a handful of these Hi-Capas being put through their paces again and again and again all weekend by the public and they never missed a beat.
Since then, we've grown the range with the introduction of the shorter "3.8" and the two "Split/Slide" models, the 5.1 Split Slide and the 7.0 TITAN. Now we are starting to see customers modifying their VORSK Hi-Capas with aftermarket pieces from other companies and this makes us very happy, although we strive to create pistol models that are as good as they can be from the outset.
Although we designed the Hi-Capas to be great performers out of the box, the vast selection of models and colour finishes we've offered have been, and are, so everyone could find THEIR VORSK Hi-Capa, and seeing that extra desire for personalisation, well… it's a special moment for us…"
And so it should be! With a host of new colours in the VORSK Hi-Capa range that offer everything from extreme "tacticool" to "comp ready" you really now can make one of their Hi-Capas your own, and in fact I'm in the midst of creating something myself with a new VORSK 5.1 that I'll return to at a later date!
ON THE RANGE
Bottom line though is that there is genuinely something for everyone in the VORSK Hi-Capa range if that's your platform of choice. My favourite from the line is still the Hi-Capa 4.3 and I've now been able to spend some really meaningful time with it. It's been out with me in all weather conditions, from frosty early mornings to some hoofingly hot days this summer so far, and I now have a bunch of extra 28BB magazines for the pistol, so my Direct Action belt is now all set up with a holster made by Kydex Customs locked in place; this has proved to be an excellent addition to my setup that works well with all 1911 models including the VORSK Hi-Capas, and Taig kindly set the holster up with a belt clip so that I can easily transfer it from belt to belt if I wish.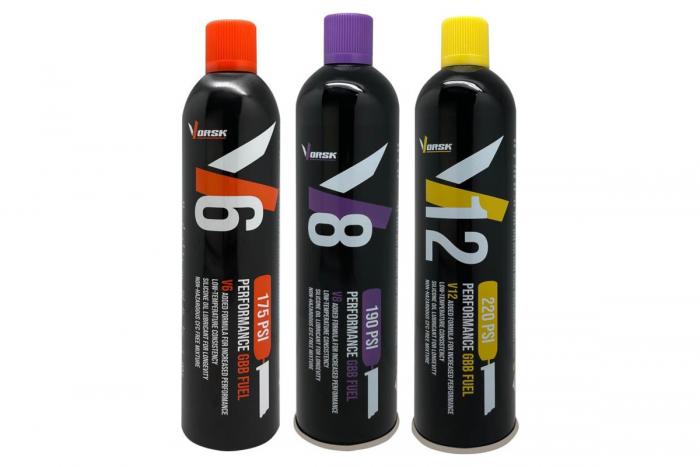 I've been running the Hi Capa on VORSK V6 FUEL, using .25g VORSK PRECISION BBs, and the chrono still settles well at 1.01 Joule/330fps with a .20g BB, with little variance from new. Accuracy is actually getting better the more I run it, and at 10m I'm now down to regular 75mm groupings when I really try; consistently at 10m it's a breeze hitting a "Figure 11" each and every time, even when I'm on the move. Thus far the VORSK Hi Capa 4.3 has proved to be an exemplary and wholly worthy fighting-partner, and only recently did I need to change the original battery in the RDS!
When I first got the 5.1 Split Slide in my hand I thought it to be a most eye-catching design, and at 900g it certainly feels solid and weighty, a pistol made to "get business done". On the fixed, front part of the slide the "venting" is not only visually pleasing as a design feature, but serves a purpose too, in that you can mount a micro or mini-RDS on this fixed section for excellent target acquisition and retention of zero.
When compared to VORKs standard 5.1 Hi-Capas, the CS VENGEANCE features an adjustable rear iron-sight, an extended magazine base plate and the inclusion of a floating BDS option. Using VORSK V6 FUEL and .20g VORSK BBs, from the box the VENGEANCE chrono'd at 0.98 Joule/325FPS, and it has stayed pretty much right there!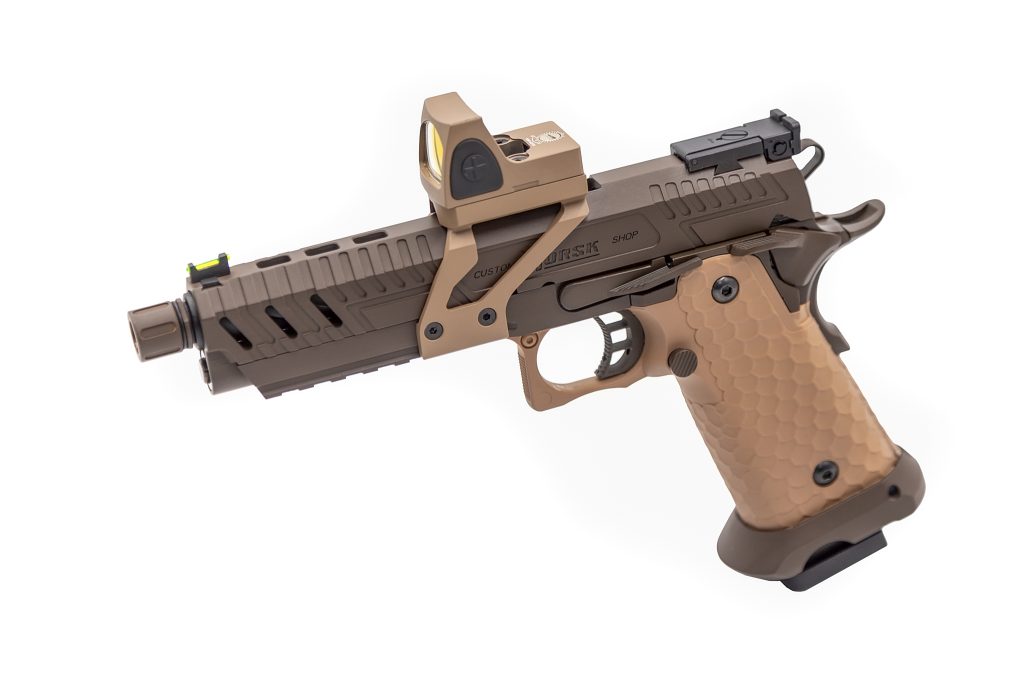 The pistol feels great, cycles smoothly, has a super recoil impulse, and the scaled polymer VORSK grip keeps it firmly in your hand. The flared magwell and extended magazine base plate help with swift changes when you run dry, and with the floating red dot fitted it's supremely easy to track from target to target if you're shooting plates or spinners. If you want to run a suppressor then it's no bother at all, and fitting a taclite such as the NX300 is simplicity itself!
The 5.1 Split Slide has also continued to perform very well at 10m on steels, and at 5-10m on the Attack Sense Smart Target System using .25g VORSK BBs, even on cooler days. In terms of the chrono, things are exactly where I hoped and expected from the outset; the pistol recorded a high of 1.01 Joule/329fps using .20g VORSKs and has settled nicely in the mid-320's on the same weight BB. It does seem to be incredibly efficient on VORSK V6 FUEL, cycling the rear of the slide quickly and efficiently, and having no problem whatsoever emptying the entire 28BB magazine.
It also rocks when you fit it with a suppressor, and given that the front of the slide remains fixed in place it seems purpose designed for this! This is another fine example of how elegant and unique design can be married to the total understanding of how a GBB pistol works to create a pistol model that if anything shoots even better than it looks!
And so to the "big boy" of the gang, the Titan 7! At over 9 inches long with a threaded inner and outer barrel (yes, the VORSK Agency Silencer does fit… beast-mode engaged!) this pistol is a real hand-filler designed in the same vein as the 4.3 and 5.1 counterparts, and I mean, c'mon, who doesn't occasionally feel like running a proper "hand cannon" every so often at a fun Sunday Skirmish!
The Titan 7 features a split-slide design that offers super-efficient performance for its size, and the pistol offers a truly LONG full-body length under-barrel rail with multiple optic mounting options; the optic rail is another VORSK development for this model that looks awesome and functions just as it should. Big as it is, the Titan 7 initially chrono'd in at 1.08 Joule/342fps on .20g VORSKs/V6 FUEL, but it seems to enjoy being fed .28g best. With this weight of BB you get cracking performance at 10m, with consistent power delivery through the magazine, and the excellent standard sights let you get on target quickly, and a crisp trigger break lets you stay on that target consistently too!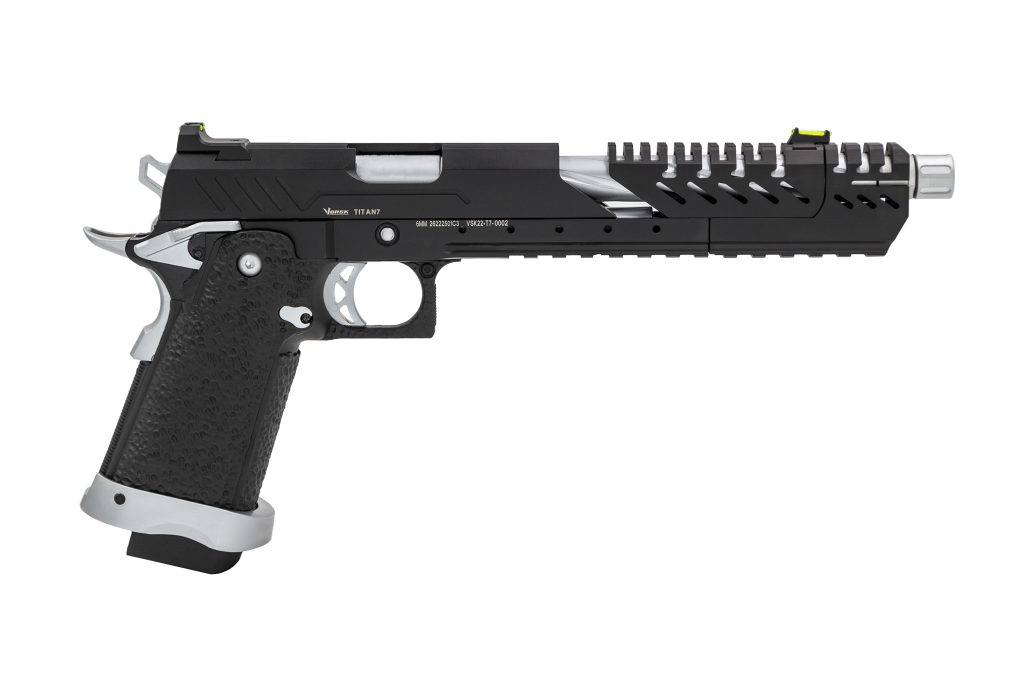 You'll see I've mentioned Suppressor compatibility a few times here, and this not only comes from them being an excellent addition to the VORSKs Hi-Capa's themselves, but also it's like the designers knew this from the start. Well they did know of course, every VORSK Hi-Capa is supplied with a 12/14mm thread adaptor that comes fitted to the outer barrel. This functional, yet also aesthetic inclusion comes fitted to every sidearm supplied but can obviously be removed should you wish – another sign of VORSK understanding the player's needs.
THE FULL PACKAGE
Amongst the AA Crew there are now a number of us that favour a VORSK pistol, a testament to the brand given the "time-in-airsoft" for some of us, and even Jimmy now has one in his armoury; I'll be working with him on that "special project", but ultimately our choices for this have been influenced by aesthetics initially as much as performance; we know we'll get the performance we're looking for from VORSK, but sometimes, let's face it, we all want "The Look" too… you'll see what I mean when we reveal things later, but the fact that VORSK offer SO MANY colours means that you can go a bit "Gucci" in your loadout easily!
But these days it's not just about the pistols themselves, something that I again asked Tom about, and he told me;
"VORSK is an airsoft brand that has grown consistently through the troubling times of COVID-19, and it is through the support of the airsoft community that this has happened, so we are very grateful to the love being given to these replicas. But it is not just replicas nowadays as VORSK has an extensive listing of BBs available in all different weights, types and counts.
As you've mentioned we also offer VORSK GBB Fuel to power these replicas. Designed and tested alongside the replicas themselves, we're bold enough to say this is one of the best airsoft gasses on the market. Like most gasses, we're supplying 300g of content within our cans, but unlike some other options available on the market, this is squeezed into a smaller 600ml container. The same amount of content in a smaller container means increased pressure, and therefore a faster expansion rate, exactly what you need in your GBB platform, VORSK or otherwise! Not to mention our gas has its own trade secret "KFC gravy" recipe, designed for peak performance whist maintaining all the seals and contact areas within the replica."
I have to say from personal experience that although the VORSK FUEL is a little more expensive than some of the competition out there, it most certainly does deliver, and having now tested a number of "bigger cans" against it I can attest to the fact that the smaller VORSK FUEL cans continue to deliver longer, and apparently better; this is also something that I've asked the AA "Techs" to look at in more depth and we'll report on this at a later date. What I can tell you is that I've genuinely had fewer seal and O-ring failures using the VORSK FUEL than usual, so obviously their "special sauce" works; so again, bottom line, if you want to get the best from something then why not uses the full package it was designed to excel with?
So, more models, more colours, increased performance and greater longevity… what more could you ask for? VORSK have 100% delivered thus far with their Hi-Capas (and indeed their other models!), and I can tell you for sure that there is more, MUCH MORE, to come.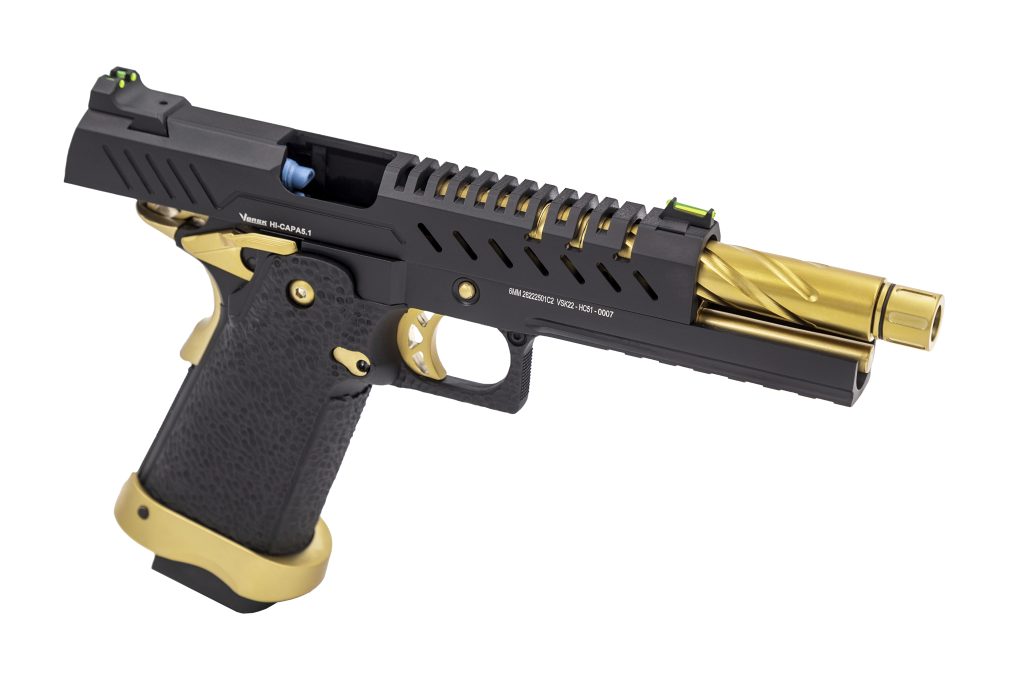 Overall this is another fabulous update to the VORSK GBB pistol line, and I believe that they have shown yet again that the VORSK range continues to move positively forward in many exciting directions, and I'm keen to see just where they move things on next… and of course I'll report back when they do. For now though it's another hard-earned WELL DONE to the VORSK team, and long may you continue to push design and performance for the benefit of all airsofters who love a Hi-Capa!
For more information on the extensive and exciting line of VORSK HI-CAPAS, along with their other excellent GBB pistols, accessories and consumables do pay a visit to www.vorskairsoft.com.