Best known for their superb GBB rifles and carbines it looks as if our friends at Vega Force Company have just dropped a new 1911 contender, the 1911 Tactical Custom, into the mix, and with its "SWAT-styling" it looks RIGHTEOUS!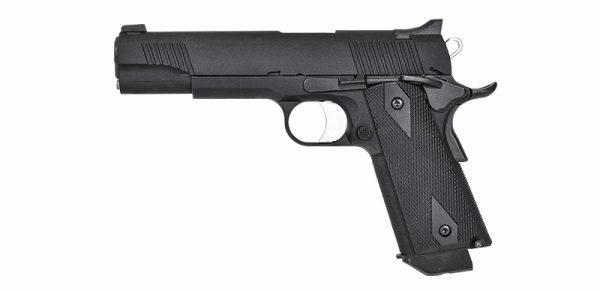 The guys at VFC tell us:
"VFC is excited to launch our the tactical version 1911 in this year; a premium-grade airsoft replica 1911 with performance to match – The 1911 Tactical Custom gas pistol.
The 1911 Tactical Custom is different from other previous products. We have improved the shooting accuracy, gasification and its smooth responds of trigger squeeze. Shooters can clearly feel the difference in performance from other 1911 type products.
In addition, we also added the patented "Guide-HOP" design. Player can easily adjust the HOP-UP through the recoil spring guide. Based on the above advantages of 1911 Tactical Custom, it has also been appreciated by well-known masters of tactical shooting in real steel. This gives us great honor to release the 1911 Tactical Custom.
VFC's past GBBR products have problems with inconvenient HOP-UP adjustment. That's why we developed a global exclusive Utility Patent – the "Guide-HOP". The "Guide-HOP" HOP-UP adjust system effectively solves the problem of HOP-UP adjusting that you don't need to disassemble to your GBBR or Gas Pistol. All you need is a 2.5mm hex wrench to adjust HOP-UP at gas block for GBBR and directly adjust HOP-UP by recoil spring guide for your gas pistol. This Utility Patent allows you can adjust HOP-UP anytime, anywhere, quickly and easily, without any disassembly. We will put this design into new products or renew our past products. Stay tuned with our "GuideHOP"."
So, not only does the new 1911 Tactical Custom look cool, but it benefits from some cool features and some exciting new technology in relation to the hop adjustment; this is a new development for their GBB models, and one that many gas platform users have been crying out for!
No doubt Redwolf Airsoft will be showcasing the 1911 Tactical Custom soon, and it's definitely a model we're excited to get our hands on!