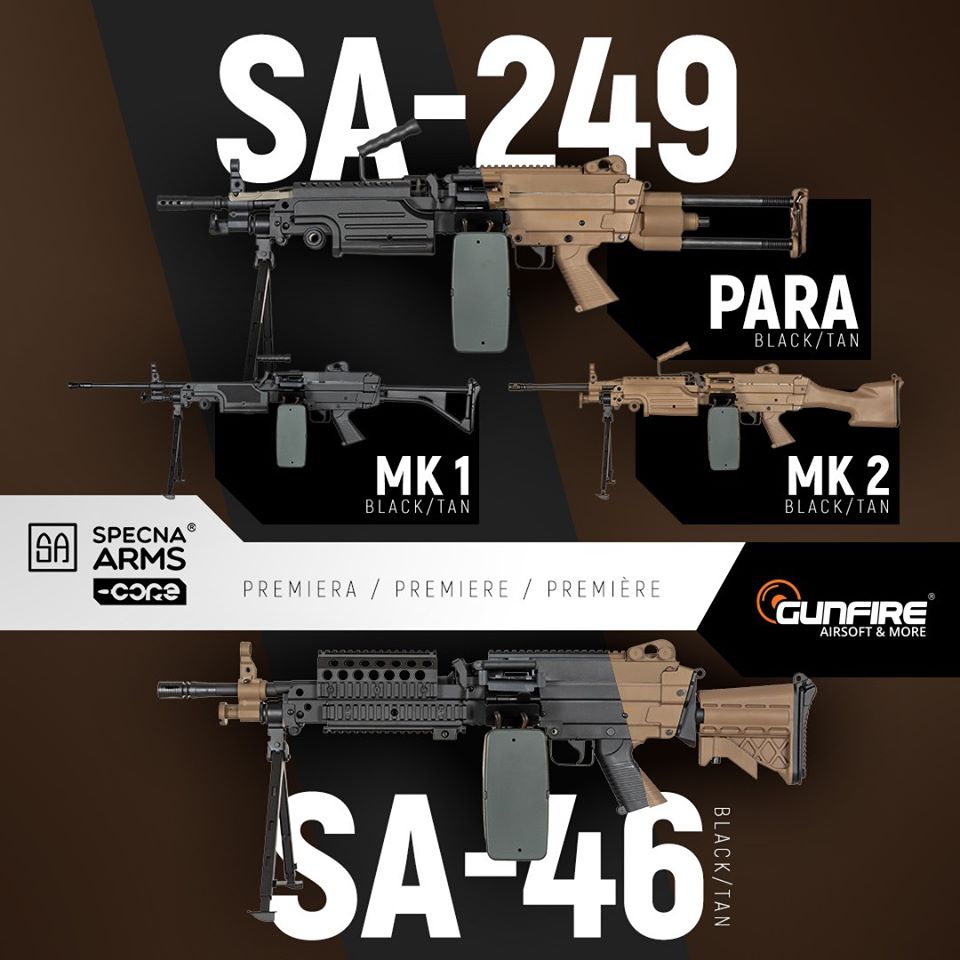 Specna Arms just did it again as they've been teasing with pictures of a possible new support gun, and Gunfire have just announced that they now have the new "M249" support gun AEGs from the CORE range available, and they have not one but a choice of eight different configurations if you take into account colours, and there even looks to be a "MK46"!
We just did a quick and dirty translation and the Gunfire website tells us:
In the Specna Arms CORE ™ support rifles, some of the elements are made of polymer plastic in order to reduce weight and make the rifle more handy. The polymer parts are mainly the body, handguard, stock, cover of the breech chamber, front sight with base, magazine and pistol grip.
Other elements, such as the outer barrel, magazine socket, and a flash hider, are made of metal. The Specna Arms machine gun also has several steel parts, such as: a bipod, outer barrel lock, stock rest, trigger guard, transport handle and all pins and mounting hardware."
Features of the replica:
– body made of polymer plastic
– a design lighter than standard M249 models available on the market
– quick barrel disassembly system
– foldable, steel bipod
– possibility of feeding from a BOX type magazine or a traditional AR15 (STANAG) magazine
The ESA ™ quick spring change system used in the rifle allows for quick and efficient adjustment of the replica's power to the conditions expected in the gameplay field without the need to have access to a workshop or a number of specialized tools. The process of replacing the mainspring takes literally a few seconds; just remove one pin, open the stock hinge and remove the guide with the spring through the hole in the gearbox frame.
The replica is powered by a full-size, metal and armored M249 gearbox, which is characterized by high durability and good working culture in stock. The mechanism is ready for further tuning and ready for the burdens associated with conducting barrier fire. Inside there are such components as:
– M120 main spring
– 8mm ball bearings
– spring guide with ball bearings
– a set of steel gears
– metal, rotary hop-up chamber
We've already had a number of the CORE line of replicas in to test and evaluate and they've proved to be solid and great value for money, and looking at the prices for the new models you're looking at some righteous AEG-action for your money!
Check out the full line HERE and we'll be sure to report back once we've had one of these on the range!