We've been teased by Specna Arms that more new models were on the way, and the new licensed replicas are finally available!
We were delighted at SHOT in January to hear of the collaboration between Specna Arms and Daniel Defense®, and this has resulted in the MK18 SA-E19 EDGE™ and SA-C19 CORE™ Carbine Replicas!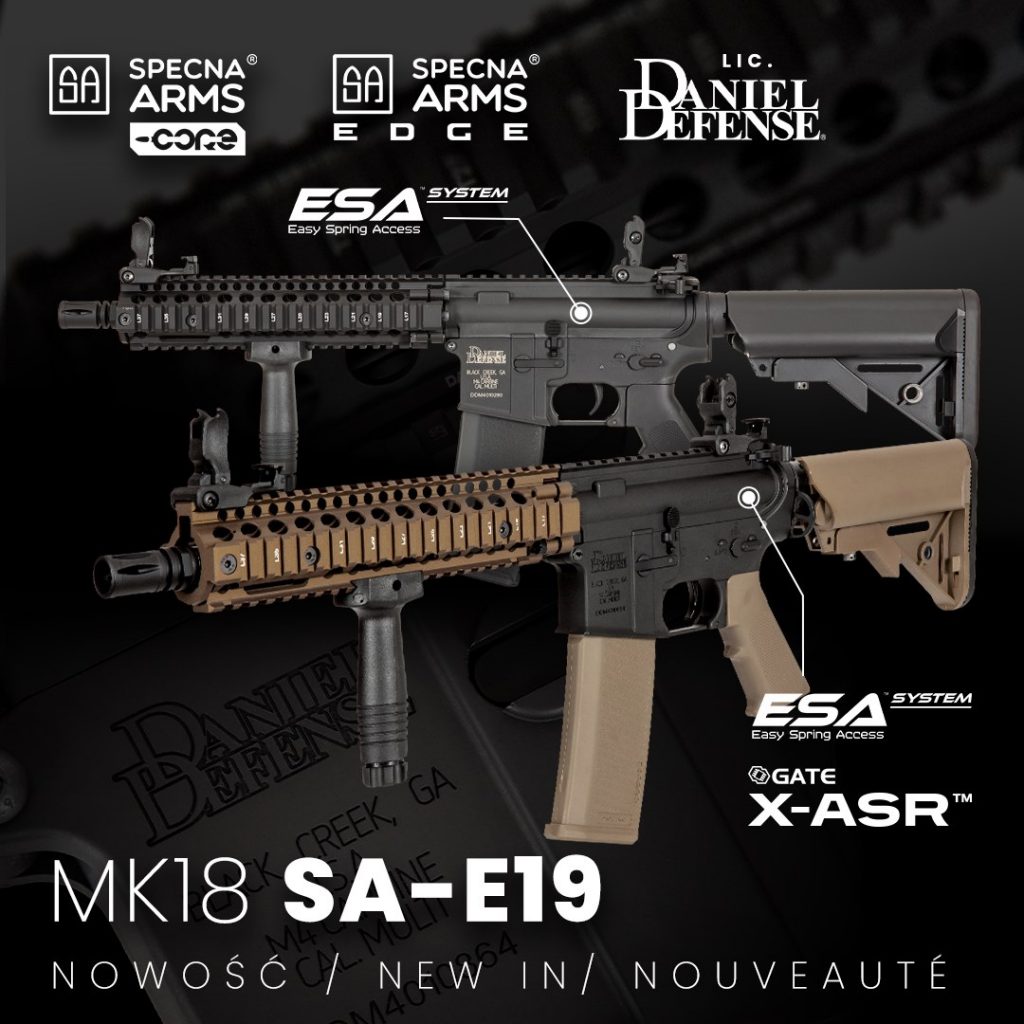 We understand that they have been manufactured in cooperation with EMG, and as they are fully licenced they come with those all-important engraved Daniel Defense® "trades", a firearms manufacturer from the United States who really needs no introduction to those that are serious about the provenance if their AEGs!
At the time of launch you can select from two colour versions, Black and Chaos Bronze, the latter looking like it replicates that much sought-after "SF Bronze" very well indeed. Replicas from the EDGE™ line are equipped with the ORION gearbox, MOSFET X-ASR from GATE, and the ESA™ system. The CORE™ version has a 6.03 precision barrel, V2 Gearbox, and ESA™ system.
Although the CORE models will obviously appeal greatly to those on more of a budget and come exceptionally well featured given their pricepoint, for an extra UK£65 (at launch) you can get your hands on the full-metal, highly-specced EDGE, so we have to say "why wouldn't you pick this?"
As we already have great experience with the EDGE AEG range, we know thatevery element of the new SA-E19 will be fitted with the utmost care and attention to detail. From what Specna Arms tell us the body features a Nano Coating finish that prevents scratches, and also bears an individual serial number further authenticated by an additional hologram as well. The SA-E19 carbine replica will come equipped with an "Mk18" RIS, and the barrel will feature a standard muzzle device on a 14 mm CCW thread. The top of the replica comes with flip-up iron sights as standard.
Internally the SA-E19 features a factory-fitted MOSFET X-ASR module by GATE, and this high-quality MOSFET looks after the safety of components, improves the trigger reaction and extends the lifetime of electronics and the battery. It will also enable diagnosing basic malfunctions inside the AEG thanks to integrated status diodes.
The replica features an internal precision barrel with 6.03 mm in diameter that will provide high accuracy and repeatability of fired shots, something we have already seen in existing Specna Arms models. The barrel works in tandem with a new type of a Hop-Up rotary chamber that allows for a very precise and stable adjustment of the BB spin. The EDGE also features the tried and tested ESA™ Quick Spring Change System.
At the heart of the SA-E19 is an ORION gearbox based on a reinforced frame and equipped with a main spring release function. The SA-E19 features an array of high-grade parts right out of the box, to continue the reputation for reliability gained by Specna Arms, and inside, there are features such as:
reinforced polymer piston with a full, steel jaw
aluminum, air-sealed nozzle
aluminum, double air-sealed cylinder head
aluminum, double air-sealed piston head with bearings
bearing-mounted spring guide
steel gears
8 mm ball bearings
The complete package as usual includes two Mid-Cap S-MAG polymer 125 BB , and as we've seen these before, we can confirm that the S-MAG facilitates a seamless feeding of BBs even at high ROF!
For players at all levels there is something exciting to see here, and the inclusion of the CORE line along with the EDGE means that players who are tight on cash, or those that simply want a great looking AEG to add into their gameday armoury, can benefit from a fully-licenced AEG that will be good to go from the box!
We look forward to getting one of these on the range as soon as we can, but for now you can check out the new models [HERE] to see just how much goodness Specna Arms have on offer!