The tactical equipment market seems to be more and more flooded with choice than ever before and sometimes it's easy to overlook a brand because their gear somehow doesn't fit into the "Gucci Category". Bill takes a pause and a step back to his participation in the WarZone game in Crete and focus on WISPORT, a Polish brand that really should be better known and appreciated!
It has to be said that an awful lot of gear that we use for airsoft is driven by the big American brands and what is seen on the backs of "operators", both in real life and in the movies or on TV. Of course, there's also the influence of the gaming industry that want their virtual characters to look "tacticool", so much so that we're now seeing tie-ins between game producers and manufacturers of gear not just as a nod, but as direct business relationships.
Now I'm not saying that this is a bad thing, as increased sales for company X driven by the virtual marketplace and showcases generated online by company Y, leads to more money in the pot for future development of new gear and this is actually a pretty healthy place to be for any producer of tactical kit. All companies love a government contract which may lead to the production of thousands of pieces of one particular type of gear and assure sales for years to come but, as always, contracts of this type are undoubtedly pared back to the bone when it comes to what the company actually earns – and ergo, what they have to spend developing new ideas.
What sometimes amazes me though, is that there are some absolutely corking manufacturers out there that not only provide kit for the top "operators" of their own countries, but innovate like mad using the best possible technologies and components and somehow are completely passed by because their gear hasn't been shown off in "Call of Modern Duty 27", or appeared in the latest "Dark O'clock" blockbuster movie!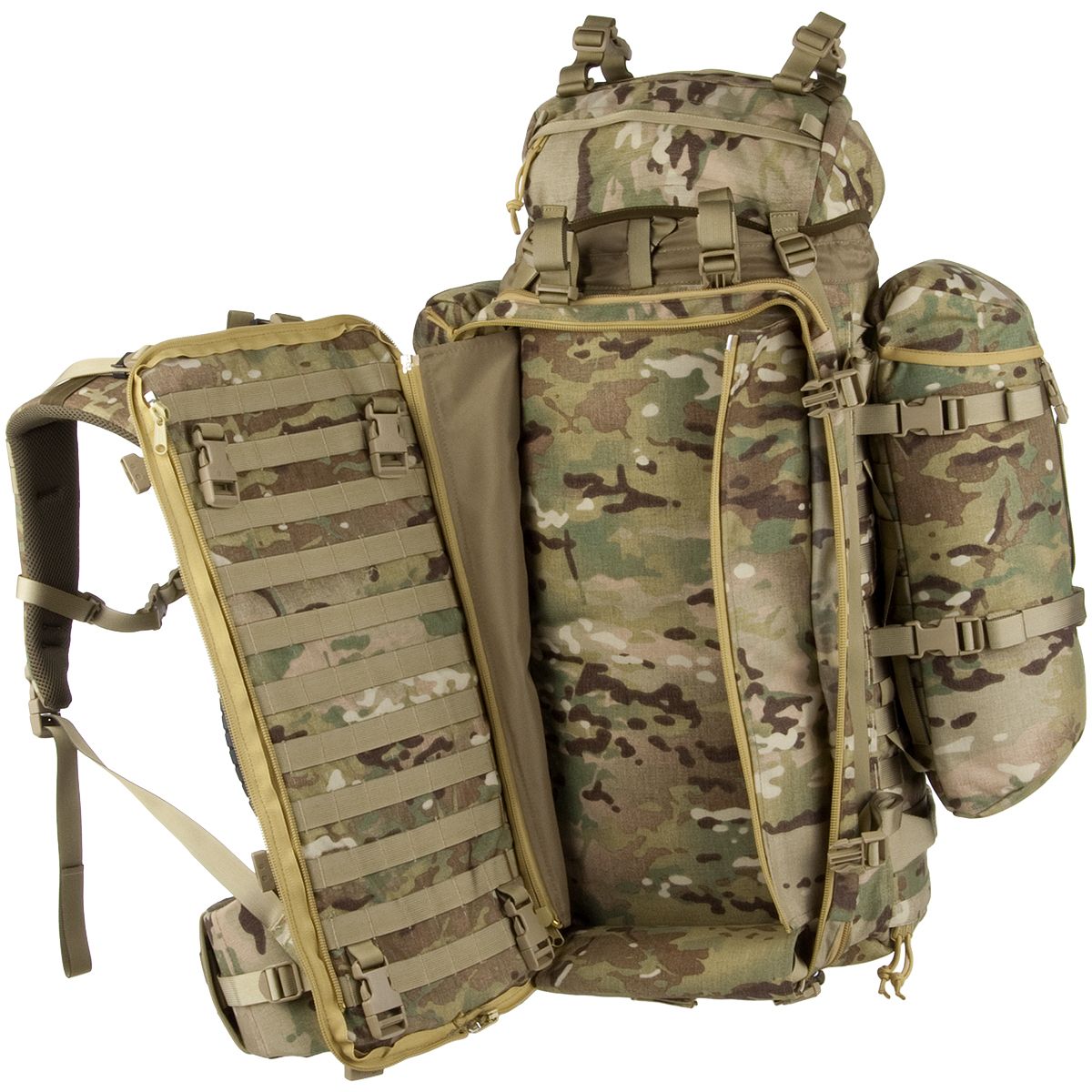 I've mentioned before, in relation to clothing, that there is some absolutely cutting-edge stuff coming out of Eastern Europe at the moment and let's not forget the operational experience of Special Forces units like Grupa Reagowania Operacyjno-Manewrowego (GROM) from Poland, who have been right in the thick of things with 1st SFOD-D (Delta Force), SEAL Team Six (DEVGRU) and the SAS, that are feeding their hard-won knowledge back into companies producing absolutely first rate gear. One of the manufacturers, who are based in Wrocław, Poland as it happens, that we seem to pass by is WISPORT and I can't for the life of me work out why!
WISPORT have actually been making packs (as well as other items for the outdoor and hunting markets) since 1984 and certainly know their business! In addition to a thoroughly extensive collection of backpacks, the company also offers fleece, ski pants, thermoactive underwear, organic cotton T-shirts, hiking boots, trekking and ski socks, and a wide range of accessories (first aid kits, transport bags, rain capes, crampons, etc) to over 100 stores in Poland and throughout Europe. Whilst they may not be so well-known in the UK, I think I can safely say that they have a "track record" for making good gear, one that the AA teams can personally attest to!
TRIED AND TESTED IN CRETE
Back in 2018 when Kelly and I attended "WarZone 2018" thanks to our friends in Crete, we had the opportunity to try and a whole bunch of gear and, as we reported back after the event, our gear caused us no worries at all! One of the items that we took with us was the little 16L "Sparrow" Patrol Packs from WISPORT in our chosen camo pattern (GreenZone) and this proved to be a proper workhorse!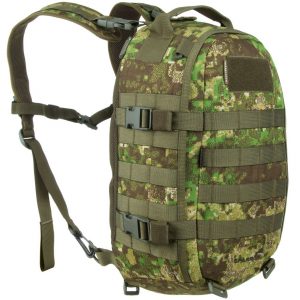 The smallest of the Sparrow backpacks family, the 16 is the latest generation of compact backpacks made of extremely durable 500D Cordura Nylon and developed in collaboration with Polish Military forces. The main advantages of the Sparrow 16 backpack are removable, ergonomically shaped and lightly padded shoulder straps, a spacious hydration-compatible main compartment and multiple MOLLE attachment points.
The main compartment of Sparrow 16 comes with an internal hydration sleeve on the backside inner, a zippered pocket and multiple elastic loops for easy organisation. Additionally, above the sleeve pocket are a hook for the attachment of hydration system and a passage for the hydration hose or an antenna. The pack features a front compartment with zip closure and multiple quick release buckles allow the backpack to be quickly dropped when required. The side compression straps allow the pack to be adapted to the size of carried kit and prevent it from shifting inside which may cause unnecessary noise, discomfort and disturbance to balance. On the front of the pack and side panels are multiple MOLLE strap attachments points, which allows for mounting various MOLLE accessories.
Durable and lightweight, the Sparrow 16 pack is perfect for carrying all you need to a full day's skirmishing and serves well as a MilSim patrol pack when you need to dump your bergan!
ZIPPERFOX
Moving up a notch to what I refer to as "Three Day" packs, WISPORT have a whole heap of models in this important 30-50L capacity area and my personal favourite of the bunch is the ZipperFox 40L. One of the more recent additions to WISPORT's line of military packs, the ZipperFox 40L was created as a modified, slightly larger and more versatile, version of their Silverfox 30L model. Designed for medium duration trips or patrols, this new generation of single compartment tactical packs benefits from extremely lightweight and durable construction, high degrees of functionality and innovative technology.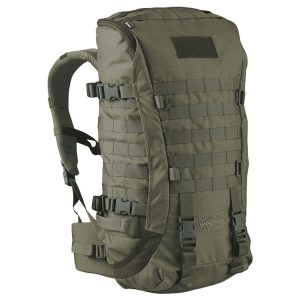 The main feature of this unique pack is an inverted "U" shaped clamshell zip opening, which allows for quick and easy access to the main compartment from the top and both sides at the same time. Additionally, the ZipperFox comes with a re-designed Semi Adjustable System (SAS) Plus carrying system which now includes profiled straps, a removable buckled waist belt, rigid back construction and highly breathable padding. Thanks to the ergonomically profiled straps sewn in permanently, the pack provides excellent stability when carrying uneven or dynamic loads, which makes it an ideal choice for more challenging environments and activities.
The ZipperFox is fully hydration system compatible, with an easily accessible zippered hydration compartment and is fully MOLLE compatible thanks to numerous webbing straps placed around the pack. This highly practical pack also comes with waterproof rain cover hidden inside the bottom compartment, side ski attachment straps (probably with other uses in the UK!) and multiple inner sleeves/zipped pockets for easy organization. It represents a perfect storage/carry solution for anyone that needs to manage a larger load when the going gets tough!
GEAR HAULERS
Depending on whether you are heading to your local site for a good day's play, or hauling your kit into the middle of nowhere for a multi-day MilSim, WISPORT really do have you covered in all respects!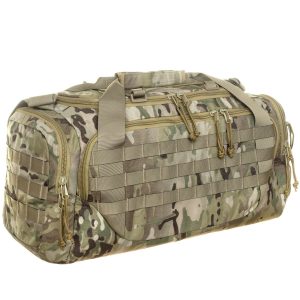 From not-so-simple duffles like the 50L Stork, up to full on mountaineering packs, WISPORT offer the lot! Made of Cordura Nylon material for superior durability, the Stork Bag features a spacious main compartment equipped with a two-way zipper opening, loop patch for hook-backed IDs, tags or morale patches and multiple pockets. The bag offers plenty of storage space and comes with removable and adjustable shoulder strap, along with numerous PALS webbing straps for additional MOLLE attachments (such as pouches or lanyards). The Stork Bag is big enough to fit in everything you need without having to dig through a massive main compartment, performs exceptionally well in virtually all conditions and represents a perfect storage solution for the Safe Zone!
If you need to be carrying your home on your back though, there is a lot of choice in the WISPORT Racoon Series of packs, but my personal choice here is the ShotPack. Designed with the serious shooter in mind (and with a price-tag to match!), this fully customisble and adaptable L-pack allows for secure and comfortable transport of a long (i.e. sniper) rifle, along with personal belongings and other necessary equipment for multi-day deployment, in one solid package.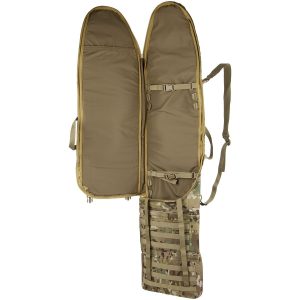 Developed again in collaboration with Polish Military forces, the ShotPack features a fully adjustable and highly comfortable FAS Plus Military back system, two large detachable side pouches, top, bottom and front access to the main compartment, and a fully removable stiffened back section with internal frame and MOLLE for multiple storage options.
Additionally, this highly adaptable tactical pack comes with a dedicated three section standalone rifle case with heavy internal padding, MOLLE webbing and multiple carry options. There's also a   hydration sleeve, concealed waterproof rain cover, helmet mesh mount and numerous compression straps – and these are only a few of the many interesting design solutions featured in this this superb tactical pack. The military grade ShotPack offers a huge amount of carrying space and is perfect for military personnel as well as hard-core MilSim players.
I've really only touched the tip of the iceberg here when it comes to what WISPORT offer, as their range is absolutely enormous and if you can't find what you need amongst their range, then it probably doesn't exist in the wild! From simple, well-thought-out packing solutions to full spectrum load-carrying hardware, they have the lot and you can check everything out by simply visiting www.military1st.co.uk.