Something new and fresh is coming to the GBB pistol market and for months now Bill has been sworn to secrecy about the project. This month though, Airsoft Action are once again excited to bring you this exclusive news about VORSK and the exciting new models you can expect to see in a store near you soon!
How do I even begin an article to describe pistol models that I haven't yet seen in finished form, haven't handled and haven't even shot as yet?
As I sat down to put this introduction to the new VORSK range of gas blowback pistols together, I have to admit that I was genuinely scratching my head somewhat. Yes, I have been lucky and privileged enough to have been aware of the "project" since its very inception. Yes, I've seen sketches become 3D renders and witnessed those renders become design drawings. In turn, I've seen those design drawing wing their way off to the manufacturing plants in the Far East and seen the development pictures as parts came free of the all-new moulds.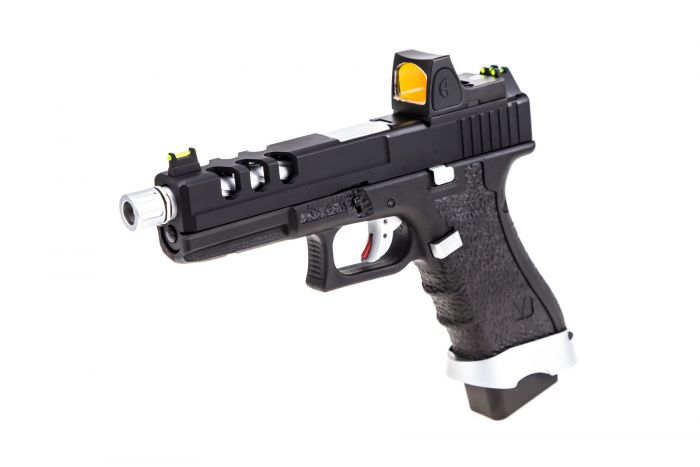 I've been lucky enough to hear the passionate back-and-forths over the importance of a trigger design or hammer, of how weight can be saved whilst maintaining durable structural integrity in a slide and how the angle of a cut will have a profound effect on an overall design. Every tiny change has been brought to my attention, not for any kind of approval but just so that I "knew" just how much attention there was to even the tiniest detail – and just how much "love" was going into creating something that didn't even exist as an idea a few short months ago!
I've been privy to the process of creation of a totally new range of pistols from the seed of an idea, and to me they already exist, have taken on a "physical" presence in my mind and they're a bit like a "ghost limb" in that I can already feel them in my hand!
So, where does an idea for a design, one that will eventually go on to be a finished product that you and I can buy and enjoy, come from? How does the idea for one model grow to be a range that has something to attract everybody no matter what their style of play? And what goes into bringing that all to market? Let me explain…
INNOVATIVE AND MODERN
Following IWA 2019, my good friend Ross at NUPROL contacted me to discuss a new range of airsoft gas blowback pistols that were being discussed following the highly successful introduction of the RAVEN range (which by the way, is set to continue growing!). In his mind – and indeed the mind of in-house technical boffin Mark – was the seed of an idea, and that idea was to create a totally new range of handguns inspired by the finest and most innovative modern combat and competition designs.
Of course, we all know the RAVEN pistols these days and they are solid, workmanlike designs that have become popular amongst the users that know, understand and love them, but they are by no means at the "concept" end of the spectrum when it comes to their "look". They are workhorses, designs that go neatly into your holster come rain or shine, but they are "combat pistols", utilitarian and put together for doing a simple job where looks don't really count for much.
But time and taste moves on and more and more we are shown handguns, not only in the movies and in games but in real life too, that are being produced not only to work perfectly but to look darn good whilst they do so! Virtually every manufacturer, both real and airsoft, wants to stamp their own identity onto their creations and know that shooters "get it". Of course, many of the design tweaks and fettles are driven by performance at the end of the day, so this is definitely a case of form meeting function.
Ross explained to me that the idea of the new range of pistols, to be known collectively under the brand name of "VORSK", was to bring some unique and exciting concepts to life in the form of a totally new range of GBB pistols perfect for whatever the user's airsoft adventure might be, from skirmish to training, from target to competition. Input was gleaned from airsoft pistol shooters around the world and several "fundamental principles" were added to the concept brief.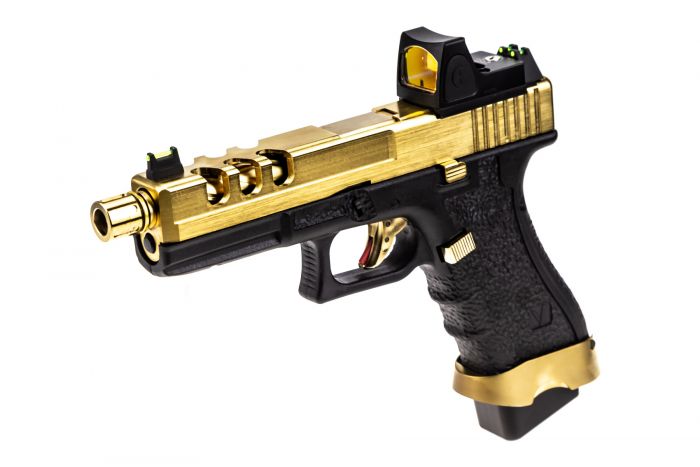 The VORSK models needed to come from a completely blank design-page to incorporate all the "design form" feedback received from shooters, with premium materials and parts married up to fresh looks which, of course, meant completely new, purpose-built moulds. Fit and finish had to be better than anything he and his team had ever created and the "look" needed to be instantly and utterly recognisable as VORSK, as well as being recognisable as the models from the real shooting world that we know and love.
From this point onwards those designs I talked about earlier began to take life and shape, and those renders and design drawings started to become "proof of concept" pre-production samples. During the summer months of this year I started to see those "in the flesh" and in my mind I knew that VORSK was going to be a winner. Every part has been meticulously chosen and tested to ensure fitness for purpose, every item from the new moulds scrutinised and re-checked for durability and longevity; what does happen when you start to add venting to a slide? Will that have an effect on the strength of the slide itself? Where can you mill out material, what effect does that have and where do you need to add material to mitigate that?
Trust me when I say that has all been part of the process to take that initial kernel of inspiration and make it reality!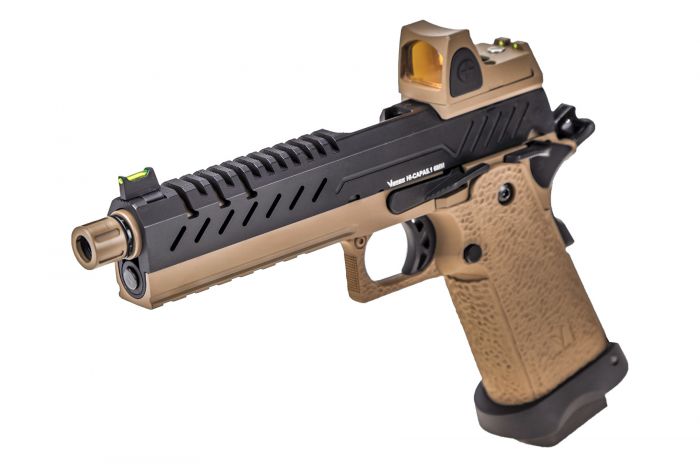 As I write this the new models – and there are over a hundred permutations of model, design, colour and accessory level – are due to be hitting UK shores in just a few days and I for one am massively excited to finally get my hands on a finished model and get it to the range! To be honest, the look of the new VORSK pistols has already sold them to me as they are indeed thoroughly modern, with some fabulous colour combos, cutaway slides, fluted barrels, and magwell flares (just to mention a couple of the features now) and they'll come in all-new EU and 1911 styles that will make you stop and stare – as you will no doubt do when you view the images accompanying this article.
Of course, as soon as they arrive the AA Team will be getting these bad boys straight to the range and putting them through their paces, and I am absolutely 100% certain that now you've seen them you'll be keen to do so too. We will be working with the new VORSK brand to REALLY see how their pistols perform over time in a new "VORSK Diary" and we'll report back on this regularly. There will also be the chance for some lucky readers to join us in this journey as Ross has already committed to making Airsoft Action some "specials" which we'll be offering as prizes soon.
For me this has been an emotional journey and I do indeed feel extremely privileged to have seen this project all the way through, with the ups and downs the process creates both physically and mentally; I can only begin to imagine what this journey must have been like for Ross, Mark, and the production team behind VORSK!
For now I will finish up by saying that I really am keen for this project to reach fruition, and to see those new models arriving on store shelves. The culmination of months of concept work, design, and development, each Vorsk pistol combines direct input from airsoft shooters around the globe along with the experience of the best factories in the business, to create a family of pistols that are equally at home on the skirmish field as on the range.
With the range just about to go on sale I'll leave the final words to those found on the new VORSK webpages and I can't help but wholeheartedly agree…
VORSK: Effective, Elegant, Mission Ready