Eye protection is one of the most important aspects of safety no matter what you shoot and we're always in search of new models that offer the highest levels of performance and protection. To this end, Bill spoke to the AA crew to find out what they use and why.
Cheap eye protection is a false economy in virtually every respect I can think of. Luckily, these days we have a wealth of manufacturers to choose from when it comes to protecting those all-important "Eyes and Ears" and testing for such products is amongst the most stringent out there.
As my father had served during WWII and then gone on to serve out his military days as an Infantry Instructor. He'd learnt many lessons and even back in the 1970's would ensure that, when he took me shooting we would always have ear plugs and shooting glasses, albeit rudimentary models back in those days. He'd seen too many of his friends suffer damage to their eyesight and suffered himself from impaired hearing. He was 100% insistent that I would not suffer the same.
Over the years this has continued to be something that's massively important to me – and it should be to you as well. Each and every manufacturer makes the claim that "their eyepro" is the best on the market, offering huge levels of protection, won't fog and will be comfortable to wear all day long but, in reality, anyone that has worn eyepro will know that it's a bit of a crapshoot! We all have different shaped heads and faces and different metabolisms and what fits well and performs flawlessly for one person, doesn't work at all for another!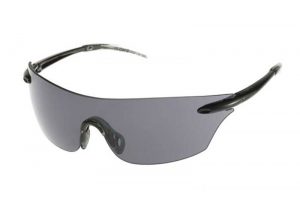 One thing we can investigate closely though, is the ratings that govern safety levels for our eyepro and I recently got into this in some detail with Jon Mills, who I'm pleased to report is joining us as a new contributor. Many of you will know Jon from his days successfully running Darkwater Airsoft down here in the South east of the UK and as good mates I am involved in a number of airsoft projects with him. We often "get into it" over topics that interest us and I'm going to play back pretty much verbatim (with Jon's permission) our recent conversation on eyepro, from which he created an overview for the local community where we live – but is equally pertinent here.
"It's a minefield when you look at ratings. For instance, no safety glasses in the UK are rated above EN166. This basically means that the lens is tested with a 0.86g, 6mm steel BB at 45 metres per second. Sounds good doesn't it? Steel BB at 0.86g, that's gotta be good? Metal is harder than plastic, right?
"The problem is the above projectile only has a Joule rating of 0.87075J and in our terms that's a 0.2g BB at 305feet per second. Wait, 305 fps is quite low. Snipers are up to 500 fps. So what do we do?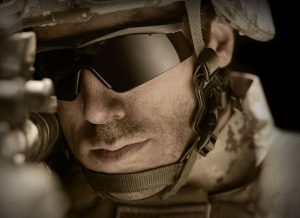 "We could look to our colonial cousins in the USA, their ANSI rating system, which is similar to our EN ratings system, but has a few extra tests. First up they drop a 1″ diameter steel ball from 50″ onto the Eyepro. To pass this test the lenses AND frames must stay in one piece. If so, it gets an ANSI Z87 rating.
"To qualify for the better ANSI Z87+ rating the testing continues. Test 2 is the High Mass Test. They drop a 500g POINTED weight from 50″ onto a mounted head form. To pass this lens-retention test, no pieces from the frames or lenses may break free or fracture. The high-mass test is a good indicator of a product's strength and is meant to simulate an impact like a slipping tool that falls onto a worker's face or a lens collision with a stationary object. Ok, sounds good, what's the last test?
"Test 3 is the high velocity test. Same as the EN test a 1/4″ steel ball is fired at 20 locations on the Eye Pro at 103mph…. Speedy huh? Not really, it is 46 m/s or 151 fps, same as the EN ones! The pass/fail criteria for the high velocity test is the same as the high mass test with the added criterion that the "eye" on the head form can't encounter the lens in any way when it's struck. This test is meant to simulate particles that workers could be exposed to when performing job functions such as grinding, chipping or machining."
So we're screwed then?
"Not at all! These are lab conditions not the variable-riddled skirmish site we all play in. No BB carries its speed/energy over its flight path, it loses it. It's exactly why we have high fps for snipers but a Minimum Engagement Distance. Energy is lost in that MED so risk of injury is reduced. In the case of Eyepro, they're not taking a full force impact unless the lens is at the end of the RIFs barrel."
So as an utter minimum we should be looking for EN166 and should be happy and confident if they're ANSI Z87+ ?
"Yeah, that's about the size of it. There is the more costly option of Milspec lenses. MIL-PRF-31013 (clause 3.5.1.1 for those who wish to geek out) are as good as you'll get in glasses form. They'll stop Chuck Norris and make him apologise!"
WHAT THE AA TEAM SAID
Taking all of the above into account I spoke to the AA Crew to see what they had to say on this all-important matter, and a number of manufacturers and indeed models proved to be uniformly popular!
Jon: "I'm still using my Bolle Rush + These have never failed me and are actually cheap enough to throw away if they take a sustainable wallop. Yup, basically Bolle Rush + or my Wiley X Vapours."
Taz: "Bolle HD Cobras; £7 a pair, awesome!"
Scott: "Wiley X, really can't see past them!" (Oh, very good Scott!)
Les: "It's Bolle Rush+ for me too. Cheap enough to have a few pairs, strong enough to do the job and the least amount of fogging out of all that I have used over 9 years.  I stumbled across them when I reviewed the whole Platinum Rush + range. I travelled to a woodland site on a hot summer day, I put a pair on in the car …played all day and took them off at end of day and what impressed me the most (amongst the other tests) was the fogging… Like "where's the fogging"? They proved themselves so well so I've stuck with them. The UK rep told me that if they had hit the leisure market before their intended industrial usage, they would be retailing for around £40-60 quid!"
Phil B: "Bolle for the range and the Revision Sawflys for skirmishes if it's dark, and Oakley Fuel Cells for a sunny day."
Chris JW: "Revision Sawflys, all I have ever used."
Kelly: "Wiley X SABERs. At first it was simply because they were the only shooting glasses I could find with pink lenses! That was 4 years ago when Scott Allan introduced me to them. I don't wear anything else now; no issues fogging, rated to ANSI standards, aesthetically pleasing!" (In fairness, Scott did reply to Kelly's answer and I feel I MUST share his reply with you… "I seem to remember me asking "what the #### are those on your face?" And then handing you a pair of Wiley's!")
Callum: "For glasses wearers it's probably worth mentioning the Bolle 500. I wear contacts now but they're still my recommendation for anyone who wears their glasses in game as they're actually designed for the task."
Craig: "TMC C2's for me! Changeable lenses, small gap at the top to prevent fogging and cheap enough to replace if needed; they come with 3 lenses as well. I've been using them ever since one of the chaps at RedWolf put me on to them years ago."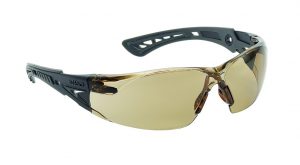 Steve T: "Despite every marketing claim ever, the only eye pro that has yet to fog for me is the Bolle X800i Platinum Clear Military Safety Goggle. Admittedly, being a fat, beardy, sweaty bastard, I'm every eye pro manufacturer's worst nightmare, which is why even the legendary, and totally uncool, Dye i4 fogged up for me. I've said it before and I'll say it again, the single most important thing that has made the biggest difference to my skirmishes is being able to see my targets clearly all day long. And there's only one solution that has delivered that for me so far; Bolle's X800i. If I broke them tomorrow, I'd buy them again without hesitation!"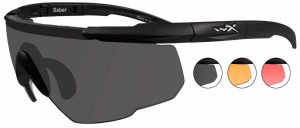 Now I take a slightly different slant on things as, like Scott, I spend a goodly amount of time dealing with real firearms as well as airsoft replicas, although eyepro for 6mm is just as important to me as it is when I'm slinging 9mm! Eyepro is an investment in my continued wellbeing so I probably do spend a little more than most!
I use Blueye Jagers. I'd previously worn the wrap-round multi-lens RAID from 5:11 for years, and actually went through three pairs of those; the design and profile of the Jagers is similar, but also a bit more up to date and certainly for me the fit is very, very good. They are also extremely light at just 30g but in no way feel flimsy. In terms of testing, the Jagers are certified ANSI Z87.1-2010 ballistic impact and optical requirements, certified EN166, certified AS/NZS 1337.1 and exceed U.S. military ballistic impact requirements for spectacles (MIL-PRF-31013, clause 3.5.1.1).
The Jagers though, are extremely comfortable to wear, even over extended periods of time and I'm pleased to report that I suffered from almost zero fogging – and that's straight out of the box!  Vents within the top of the lenses allow air circulation to actively minimise any build-up of moisture. With the High Definition lens the Jagers retail for UK£150, however, the safety specifications of the Jagers do exceed that of my old ones so they are superb value for money.
In a nutshell, when it comes to Eyepro price should not be a consideration if the model you choose fits well and offers high protection levels; after all, what price can you put on your eyesight? In a nutshell I'll go back to my conversation with Jon to conclude:
"Look for eye protection that at an absolute minimum has EN166/ANSI Z87, Price Range £-££, but even better is ANSI Z87+, Price Range ££-£££. For the best levels of protection look for MIL-PRF-31013, but expect Price Range to be £££-£££££!"