Bill gets to grips – and to the range – with the Specna Arms SA-H12 ONE carbine to check out if the only easy day really was yesterday!
It's an old adage that things go round in cycles and it would appear that, once again, there's a lot of players that are back on the Naval Special Warfare or SEAL "kick", thanks in the main to the ongoing adventures of the TV series "SEAL Team", which follows "Bravo Team" on their missions around the globe, a show which premiered in September of 2017 in the USA on CBS but is now watched worldwide!
I've often said that I find it quite amazing that a movie, TV series, or even a popular game can have the impact that it does on the loadouts we come across on the airsoft field but, like it or not, this is a fundamental truth. The availability of "good and righteous kit" may go up and down a bit, with CRYE-cut AOR1 and AOR2 going from in to out of stock seemingly overnight, but for those that choose to take the long path to amass the correct gear for their loadout there's a treasure trove of cool kit out there, and the "patient watchers" will be able to find most things that they need.
Of course, at the centre of any loadout is an appropriate AEG or GBB and for a good NSW one you actually have quite a viable choice of "primaries" such as the M4A1, MK 18 CQBR, MK 16 SCAR-L,  MK 17 SCAR-H and the HK416 (to name just the main models!)  that have all been seen at some point in the hands of SEALs, both real and make-believe – and that's way before you get into some of the more esoteric stuff! From their very earliest days SEALs have been known to go for primary platforms away from the "norm", when the Stoner 63/Mark 23 Mod 0 was their weapon of choice "in country".
It makes sense then that these "operators" will be using the latest iteration of the Heckler & Koch carbine and what we're seeing now is the HK416A5, the "next evolution in assault rifle technology", as it's described. The A5 moves along development of the HK416, with the most striking changes including an improved and tool-less gas regulator for suppressor use, a redesigned, user-friendly lower receiver, which allows complete ambidextrous operation of the weapon and ensures optimised magazine compatibility, as well as numerous technical improvements to maximize the operator safety, reliability, ammunition compatibility and durability during (and I quote directly here) "over the beach (OTB)" operations.
For many wishing to replicate the A5 fully in airsoft form though, there's another key piece to the puzzle and that's replacing the standard rail system with a Geissele (that's "Guys-lee" FYI) "Super Modular Rail HK 10.5inch". This was designed to swap out with the standard rail using the stock HK barrel nut but incorporates greater strength, rigidity and modularity. Made from 6061-T6 aluminium and finished in type 3 hardcoat anodizing, the SMR HK (and now the MK15) meets military specifications. The system features mounting options at the 3, 6 and 9 o-clock positions, as well as featuring a full rail along the top and shortened rails on the forend in the case of the MK15. Geissele consulted with elite warfighters and their input was taken into consideration while developing the SMR.
NSW ON A BUDGET!
Bringing things bang up to date, we're seeing more and more images of SEAL team operators with the HK416 and especially now the HK416A5, and although there are a few airsoft versions out there already, they haven't exactly been aimed at the "starter end" of the player market with price tags heading way up over the UK£400 mark – and that's before you start adding all those "necessary" accessories!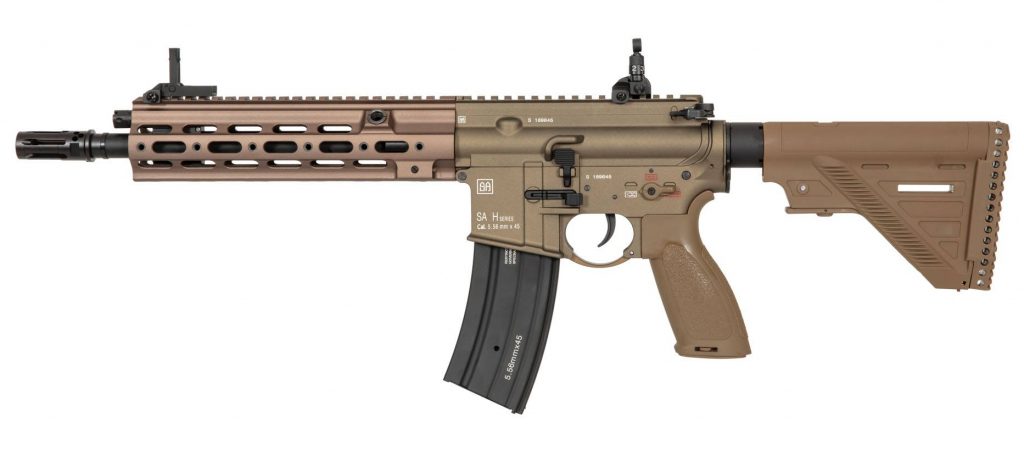 When it comes to CQB-length AEGs (check out Red Cell this month for more on these!), Specna Arms had an undoubted success with their "MK18 CQBR" at the back end of 2020 and they've moved things along nicely with two new models that step firmly into the NSW replica arena, whilst keeping things real when it comes to pricing. The SA-H11 and H-12 are without any question "416-alikes", and as they're both priced currently at UK£212 (black variant) and UK£240 (tan variant) respectively, which puts the "operator primary" well within the reach of those on a budget – and that is fabulous!
The H-11 is pretty much a "standard" A5, with the usual railed HK system with integrated flip up sight, whilst the H-12 takes things up a notch with an "SMR" system and it's a fabulous slimline rail that brings down the front-end weight and bulk of the carbine. Both models from there out are similar externally and internally, benefitting as they do from ambidextrous operating controls; bolt catch, magazine release, safety/fire selector lever and charging handle, the rounded "winter" trigger guard for use with gloves and cold weather clothing, contiguous top rail for use of optics and aiming accessories, a redesigned ergonomic pistol grip (there's no storage compartment for a field stripping tool of course!), an enlarged bolt catch lever and protective barrier against accidental use and the latest slimline multi-position sliding stock. All in all they are both VERY tidy packages!
Externally the finish of both carbines is excellent, the black being black and of course the tan being "the new black"! In fairness the plain black versions of the H-11/H-12 are priced even lower than the tan, and therefore are perfect for those that wish to give their carbine a proper "NSW" rattlecan finish. However, like with the MK18, I forsee that the tan version is going to be incredibly popular and as good as it looks online, in the flesh it's even better (if that's possible)!
The overall receiver tone is very close to H&K RAL8000 (it certainly looks great to me!) and the polymer parts (selector, pistol grip, and a very detailed dust cover!) are all superbly replicated. The colour of the rail is also very cool and before anyone goes "off reservation" and says it's not 100% absolutely right, do bear in mind that Geissele themselves say of their DDC (Desert Dirt Color) that "Geissele DDC, or Desert Dirt Color, refers to the variety of shades of desert terrain. Differing shades of DDC are desired on a military small arm to breakup the outline of the weapon… Due to the chemical process that takes place during Type 3 Hardcoat, the finish on the product can vary from one to the next, even if it is the same batch" …and if some variance is good enough for the "real deal" it's certainly good enough for me!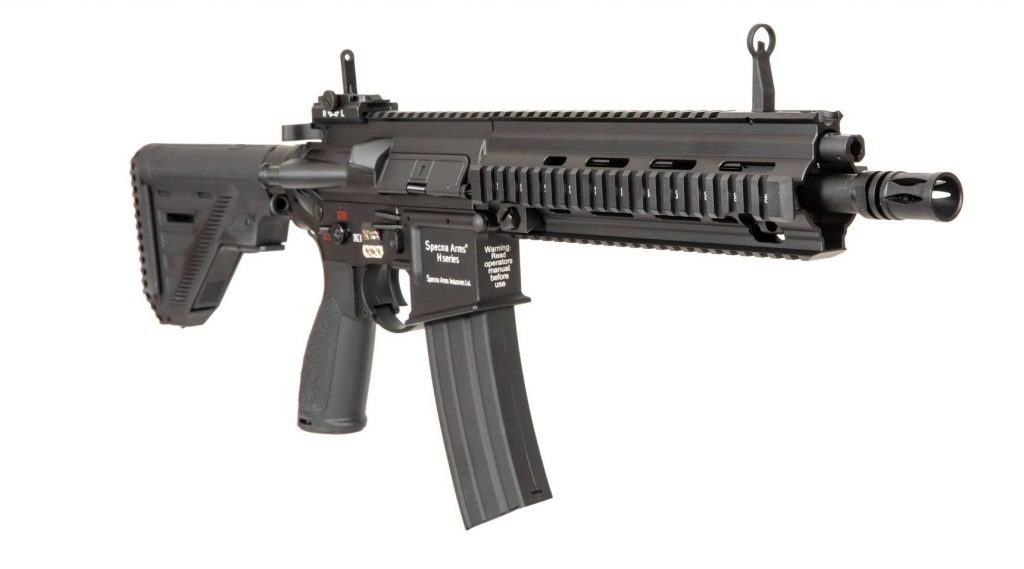 So, externally the new H-series AEGs are marvellous and all the parts marry together unshakeably and perfectly, but what's going on inside you may ask? Both models are the same internally and are fully compatible with LiPo and LiFe batteries. Due to base muzzle velocity (1.71J/430FPS on a .20g) provided by the main spring installed by default by the manufacturer, if you don't have this spring changed out at source (in some countries players will need to have this done for legal reasons) you'll also find in the box an M90 spring, which allows to reduce the muzzle velocity to 0.89 J/310FPS and as a result to adapt the AEG for legality and also to make it perfect for close-ranged and indoor games; this is a CQB-length carbine after all!
The gearbox, which is reinforced on the height of the cylinder head, hides a steel main spring guide which is the base element of the Specna Arms "Enter & Convert™" system; 8mm bearings and steel thread-wheels are also fitted and placed on spacers. The system is secured with the use of four anti-reversals and there is a Type 2 cylinder. The H-series are factory-fitted with a neat, easy-to-adjust, rotary type polymer Hop-Up unit that allows very precise adjustments.
Thanks to the to the "Enter & Convert™" system it is possible to quickly and simply adapt the power of the replica to the requirements of your favourite field or site, without the need to access a workshop, without special tools and without the services of a tech! Once the gearbox has been taken out of the AEG's body, changing the spring takes literally seconds and even a muppet like me can do it!
Given the current disparity globally on legal power limits, this system guarantees the user an AEG that can be simply adjusted, whilst not making it so easy that you can swap out springs in game; you do still need to pull the gearbox to make any spring change after all. The "Enter & Convert™" system, however, allows you to take minimal time to change the main spring, so you can set your power level in such a way as to guarantee an ideal compromise between territorial legality, effectiveness of fire, and safety for the user and other players. As someone who has played – and hopes to play again – in different countries with different laws, I like this, I REALLY do!
DOWNRANGE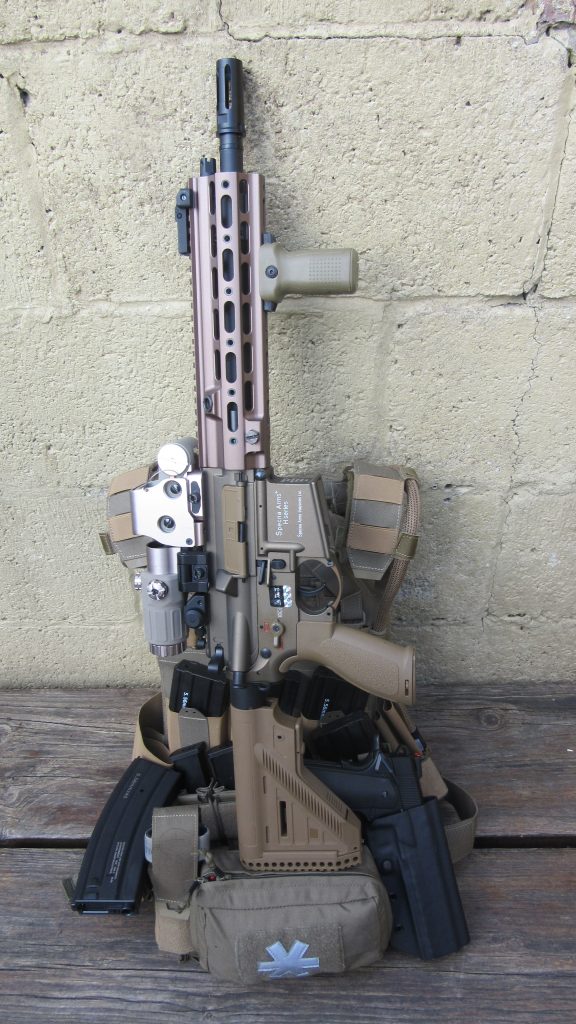 I'm pleased to tell you, that in operation the H-12 that was provided for testing (and with the spring set to UK-legal limits prior to shipping by the lovely guys over at www.gunfire.com) is, if anything, even better than my tried and tested Gen1 HK416… from the box! As I'm still in "C-Virus Lockdown" I initially tested the carbine on my 10m short range, to chrono and evaluate and in terms of power I got a consistent 0.93J/317FPS on a .20g RZR BB, using a buffer-tube 900mAh 11.1V LiPo. With .25g RZR BBs the accuracy was stunning at that range, darkening the Attack Sense targets with every BB. I did take my guideline-compliant "afternoon constitutional" up to the woodland range when the sun shone though (yes, it WAS an easy day!) and ran my usual drills using the provided 300BB metal magazine which fed perfectly, along with other STANAG and polymer magazines, just using the excellent BUISs that come fitted as standard. Once I had the hop set I was again hitting sandbags at 30m with dead-flat BB flight to target; this carbine puts BBs where you want them to go, so if you're going to use it for CQB, consistent accuracy is NOT going to be a problem once you have it set up right!
My final take is that the H-12 is a great AEG, most especially given the price. Would I buy an H-11 or H-12 myself as I already own a really good HK416? Yup, you better believe I would as the H-series are pretty darn fine airsoft carbines and the H-12 is the latest version of the ongoing legend of this family in airsoft form (who's going to make the A7/G95 first though I wonder???)! Although my days of "door kicking" may be coming to a close, I still love the HK416 as a design and having all-ambi controls along with the stunning SMR-style front-end makes the H-12 in particular a carbine that I could come to love!
My thanks again go to Pawel and the team at www.gunfire.com supplying the SA-H12 ONE for T&E.