It's always a pleasure and a privilege to see new brands emerge and get into their stride and Bill has been watching Direct Action from Poland very closely indeed! With some great new gear models hitting the market right now, he brings us an update of kit that he's already tried and tested extensively.
It's really exciting for anyone who is involved with gear testing and development to have access to the manufacturers themselves and at Airsoft Action we are extremely lucky to count a large number of the "top guys" as, not just partners, but also friends. As with any relationship, the backbone is one of mutual trust and respect and over the past few years I have really come to respect and trust the guys at Direct Action immensely.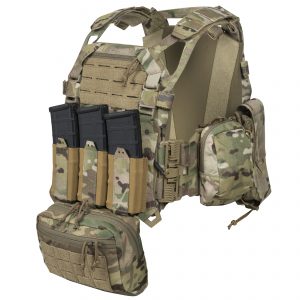 Direct Action is a Polish company set up in 2014 that, from the outset, sought to combine great design and manufacturing capabilities with an up-close-and-personal understanding of the specific end-user needs. From the very beginning, Direct Action have been a very tight unit and their R&D team in Poland consists of just a few good people; each member has his or her own area of expertise and is responsible for the tasks and projects that relate to that. As one example, the guy responsible for their innovation and testing is a recently-retired GROM combat medic, with almost 20 years of service and several tours of duty in Iraq and Afghanistan!
This combination has created the approach of "an individual-as-a-system" that is open and flexible to all necessary options yet remains streamlined and avoids over-burdening. Each part of the system interfaces with the other components; weapons, load bearing equipment, backpacks, jackets, duty uniforms and even camouflage patterns, each of these is a part of a whole and a key component that's critical to mission success.
When creating Direct Action gear, every detail is rigorously thought-out using a systemic perspective and there are no random choices, no compromises, no "same-old-stuff" design approach, no shying away from new technology; all items are based on first-hand, real world experience of elite special operations units.
Direct Action uses the highest quality materials available and the production process itself is subject to rigorous control. The whole line of combat equipment is designed and manufactured in Poland.
PACKS TO GO!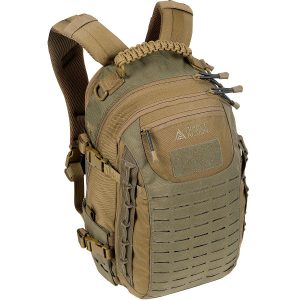 My first exposure to Direct Action came in the form of a couple of their excellent patrol pack models and I'm going to tell you that, as someone who worked with cutting-edge pack manufacture in a "previous existence", this is an area in which I am hyper-critical. Back in late 2014 I received for test the original DRAGON EGG and DUST day pack models and both models really appealed to me, not just on a design level but also in the way they were put together, the sheer attention to detail and the quality of both workmanship and materials. As I said at the time, "If you're in the market for a new ruc for 2015 then I'd suggest you take a very long, hard look at the new Direct Action models".
From what was initially a tight and focused line though, Direct Action have really moved things forward in the intervening years and I've made a point of visiting them both at IWA each year and also at SHOT when I visit, as their products are now fully available in the USA. I've seen the latest, updated models of the packs come to market and these are now even better than they were when first launched!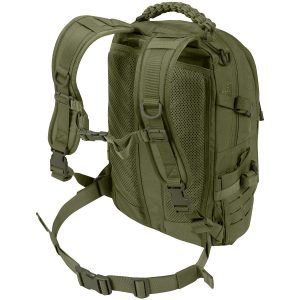 The original Direct Action packs have proved massively functional and exceptionally durable and the finish and quality of construction of both the upgraded packs is absolutely first rate. The new models both performed superbly in my 2018 "mountain test" and show every sign of putting up with a lot more abuse in the future!
LOAD AND PROTECTION
Given my positive exposure to the Direct Action brand from the very outset, it's really been a bit of a "no brainer" to pick up more from them over time. I've waxed lyrical to anyone who will listen about their superb MUSTANG and WARHAWK belt systems, which is currently my "go to" belt order and one which has now been extended with the addition of a number of Direct Action Pouches. I'll report back on this setup at a later date, when I've had chance to put it through its paces to a greater degree!
What I have been using for some considerable time already though, is the Direct Action HURRICANE Chest Rig, which has become a firm favourite with me. It's a low profile, adjustable rig made from laser-cut laminated 500D Cordura, so it's tough enough to endure an awful lot of abuse. It has a softshell interior construction that makes it a comfortable rig to wear for extended periods of time. The harness is well constructed and feels sturdy even when the rig is loaded up and it has a reinforced drag handle incorporated into the design, along with the ability to be attached to one of the Direct Action Body Armour systems.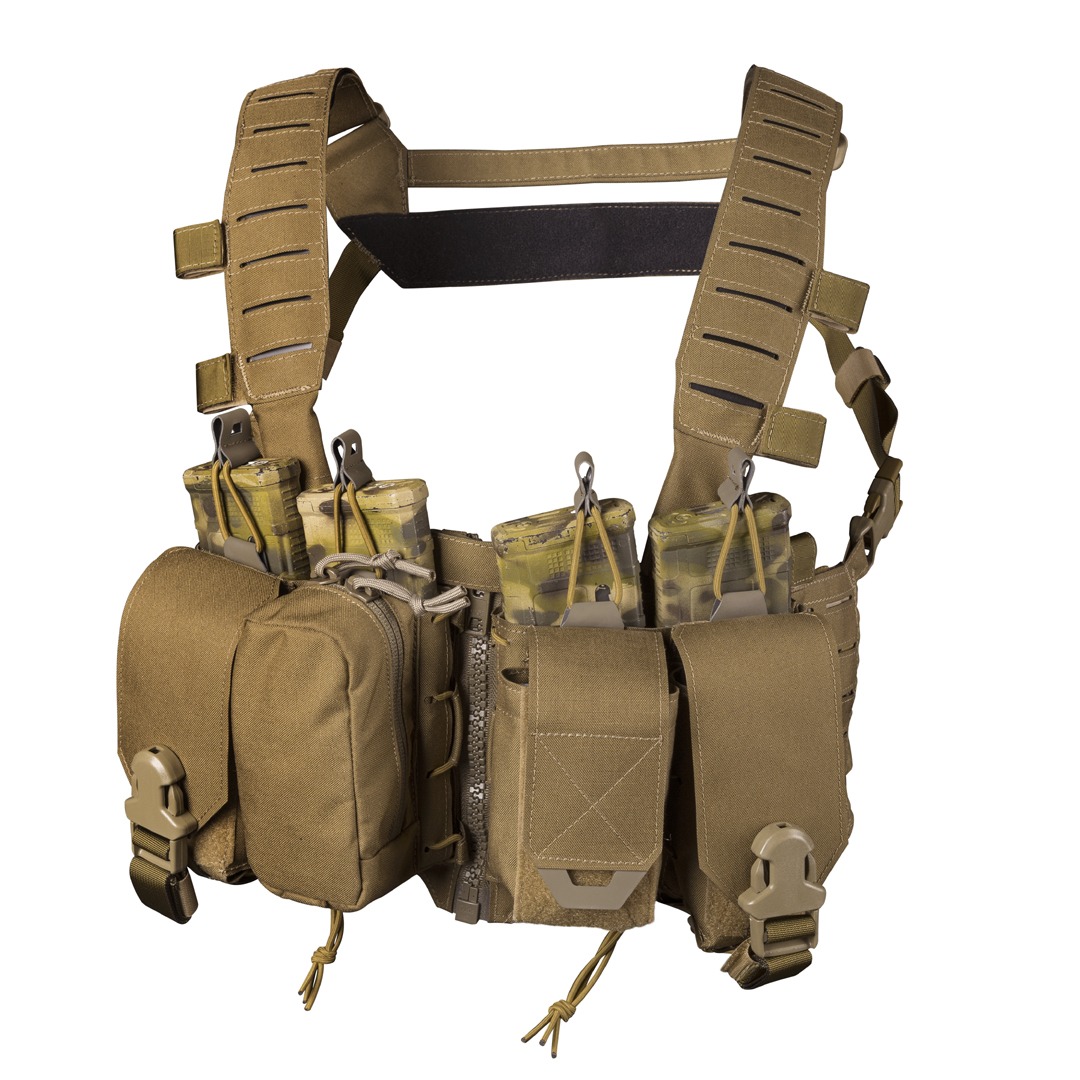 The "Hurricane" has nine PALS slots on the sides of the rig which are perfect for radio, medical, utility pockets and horizontal PALS slots under the ammo pouches for items such as tourniquets, pistol mag pouches and 40mm pouches, so you aren't just limited to the pouches on the rig itself should you wish to upgrade it. If you choose to run comms, the fixed pouches are a great size for most radio PRRs and the rig has routing channels to keep everything tidy and to prevent wires getting caught.
Not only is it comfortable and solidly put together but it comes as standard with integrated, adjustable magazine pouches with paracord retention that adjust to fit a combination of eight AR, four AK, or even four 7.62mm magazines. It also features a number of fixed external pouches for other essentials including two adjustable pouches, a sealed zipper pouch and a Velcro flap pouch for when you need to access items quickly. The harness is completely adjustable thanks to a secure harness design and to keep the excess material tidy, it has Velcro wraparound "tidys". It has a split front- zipper design as well so you don't need to adjust it every time you remove it which is very neat indeed.
Although these days I'm usually not in need of any kind of "armour protection", I was intrigued by the fact that all Direct Action gear is designed to work together and that it fits neatly in a fully modular fashion, not just with their own range but also with that of other industry leaders. To this end I got hold of their latest SPITFIRE MKII PLATE CARRIER. The Direct Action SPITFIRE takes its name from a famous WWII fighter plane and like this aviation icon, it's a streamlined and dynamic platform designed to carry ballistic plates with modular accessories on or off the battlefield. At just 672g in a Size Large, it's lightweight and non-restricting and is indeed one of the lightest carriers in its class.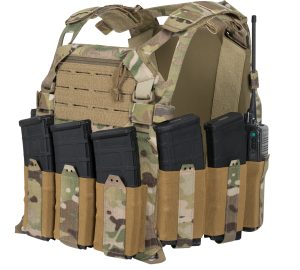 Whilst I never tried the first iteration of this plate carrier myself, reports from colleagues and friends were all positive and having now had "hands on" the MKII, I can see why! The MK II version may look simpler but in fact it is much more scalable and mission configurable. The Direct Action team have stripped the carrier of unnecessary PALS slots under the flap and on the back, as well as enlarging the loop panel on the front for larger unit patches and they've even made it lighter than the standard version.
The SPITFIRE is beautifully made and cut, and once again the materials and components are absolutely first rate! Put together using proprietary laser-cut laminate, Cordura 500D and softshell materials the carrier benefits from front plate only configuration using the chest rig interface, optional pads on front, back and shoulders area for improved airflow, a zippered chest admin pocket and PTT and comms wires / antenna routing attachment points – and there's even an accessory armour package for heavy configuration in development. The back panel zipper attachment system is compatible with Crye Precision AVS, whilst the chest Rig attachment system is compatible with Mayflower/Velocity Systems, offering you even further options!
Thanks to numerous new design elements, back panels and optional side armour compatible cummerbunds, you are able to set up the carrier the way you actually need it. It's at the same time an incredibly durable platform and is unique in its modularity, converting to a cut-away rig in just a few simple steps, allowing for quick donning, doffing and medical access thanks to Hypalon pullers.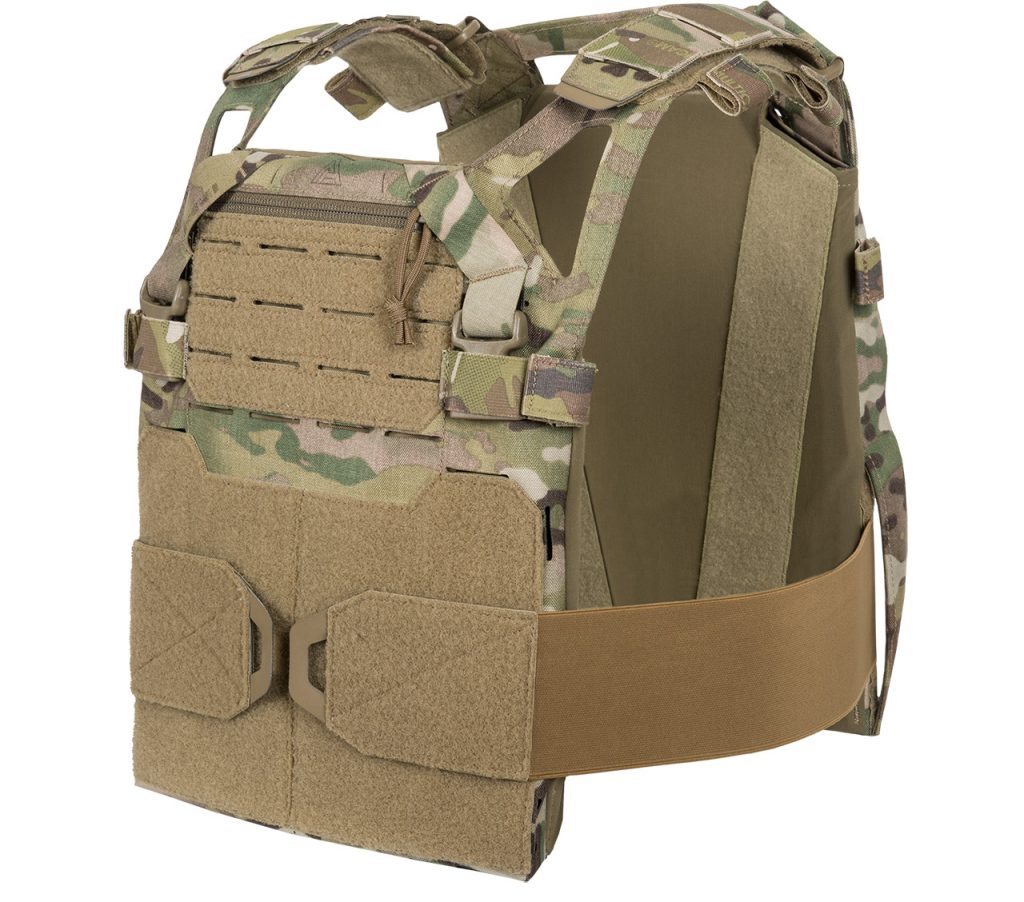 I've just started putting the Spitfire through its paces with my usual medium plates fitted and thus far I'm impressed – and speaking to Tom, he's equally as impressed as he's bought himself the very same model! Although the Spitfire is certainly smaller than the carrier I usually work with, the plate support is excellent and the pressure exerted both around the torso and over the shoulders is nicely balanced and spread evenly. The "captured" female buckles for the front carrying system are tidily achieved, meaning that you can easily change out your load carrying options. Say you want to set up your plate carrier for light use? Simply attach a SPITFIRE MK II SLICK CARBINE MAG FLAP, SPITFIRE SMG FLAP, or SPITFIRE SHOTGUN SHELL FLAP to the velcro and buckle it in place. Running hot and heavy with a full fighting load? No problem… simply use the CHEST RIG INTERFACE (which also means you can use the Spitfire in Front Panel Only mode) and you're all set with rifle/carbine mag pouches, pistol mag pouches, along with space for bangs and admin items. If you need to carry more load as part of your modular system Direct Action offer a number of excellent back panel add-ons, like the SPITFIRE MK II BACKPACK PANEL or SPITFIRE MK II UTILITY BACK PANEL, so you're all set!
As I said when I started, it's incredibly exciting to watch a brand grow from the ground up and from humble beginnings Direct Action have grown in the very best way possible, enlarging their offering sensibly, and moving things on when new ideas or technologies become available. I've been very, very impressed by the pieces I've had from them for some time now and the latest version of the SPITFIRE certainly shows that they mean business in the future. It was superb to see them at IWA 2019 and by the look of their stand they undoubtedly have more to come soon. I'll look forward to reporting back on this as soon as possible!
For more information on the extensive range of top-notch tactical gear offered by Direct Action please check out https://us.directactiongear.com/ in the USA and https://eu.directactiongear.com/ in Europe.