One of the most-overlooked bits of kit in the "tactical wardrobe" is the fleece but it's actually one of the most versatile garments that you can own, both for airsoft and general use. Bill takes a look at some of the models he's been using and abusing and brings us the benefit of his years of use and technical garment knowledge!
It is a common misconception that when the temperature plummets, wearing the thickest clothing possible is the ideal solution but, in reality most technical users, including airsofters like you and I, can benefit from a variation on a layered clothing system. I've covered the system itself in some detail in the past but this month I'd like to focus your thinking on one garment that is often overlooked when it comes to "Gucci" shells and softshells and that's the (not-so) humble fleece.
As airsofters, like other outdoor users, we are often exposed to challenging weather conditions and thus need performance clothing. A fleece jacket or pullover is an incredibly useful and versatile garment because it provides insulation and can be worn either as an outer layer (in dry weather) or as a mid-layer under a shell layer (in wet or snowy conditions). Fleeces are very comfortable to wear, quick-drying, moisture-wicking and breathable and due to these qualities, they are perfect for wearing directly over a base-layer as a mid-layer. They also provide good warmth even if they get exposed to moisture (high humidity, rain etc.) and are less expensive than many other insulated garments.
Technical String Vest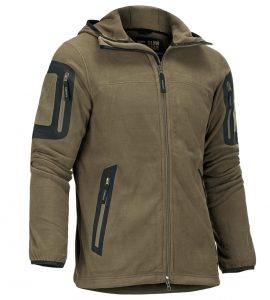 If you like, think of a fleece like a technical string vest! A fleece, by its very nature, has a very open structure and this means that when worn underneath an outer shell garment air is trapped in the "holes" and quickly warms up. These microscopic "holes" also allows moisture vapour to pass easily within your clothing system, transferring moisture away from your wicking base-layer, through the fleece mid-layer, to the breathable shell-layer where it can be dispersed, aiding massively to your overall comfort and performance.
Sometimes simply called "the insulation layer", the mid-layer provides warmth and a mid-layer is usually either a fleece or an insulated jacket. Like a base-layer, a mid-layer should be breathable and able to retain heat; many insulated jackets will help to keep you warm but suffer badly in the breathability stakes once you're doing anything other than standing still. A mid-layer is worn directly over a base layer when the base-layer alone can't provide sufficient warmth. The main function of a mid-layer is to provide thermal insulation; mid-layers include fleece jackets, fleece sweaters, wool sweaters, down jackets and jackets with synthetic insulation. Fleece fabric though is typically very breathable and comfortable to wear all day long; it also absorbs very little moisture (less than 0.4% in its own weight, unlike down!), dries very fast and efficiently wicks moisture away from the skin. Some fleece fabrics include stretch fibres to increase mobility.
Fleece garments are usually made of polyester fleece which is a soft and comfortable fabric that comes in different "weights", normally from 100g/m2 to 300g/m2 and different "weights" offer different levels of insulation. For example, a jacket made of fleece with a density of 100 g/m2 will be less warm than a jacket made of fleece with a density of 300 g/m2. When it comes to finishes, the latest trend is to use a "grid" pattern and it is a fact that fleece fabrics with a grid pattern (back to the string vest!) are better at trapping the body-warmed air and thus provide a better warmth-to-weight ratio.
It is also important to understand that different "weights" of fleece can have a profound effect on your comfort; too thick and you'll start to overheat, too thin and you'll still feel cold! As a rule of thumb, I tend to go for "mid-weight" (iro 200g/m2) fleeces unless I'm heading somewhere super-cold as these do tend to provide a great balance of heat-retention against comfort. I actually own a "family" of fleece garments from different manufacturers though, as style and cut variations can add to the performance of the fleece fabric itself.
NO NEED TO BREAK THE BANK!
It may surprise many of you that one of my most favourite fleece garments, one that I wear almost every day (and that I'm actually wearing as I write), is the Tactical Fleece Hoody from good old VIPER. Constructed of a lightweight and durable fleece, it's the absolutely perfect mid-layer, and although it does sport velcro on both arms it's very low-key. It's quite close fitting, which is technically correct to maximise breathability but the hood and "kangaroo" pocket means that you can really warm yourself up easily.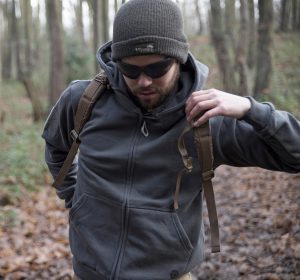 Also in the VIPER range – and offering excellent value for money – is the Tactical Zipped Hoody, which is essentially the full-zip version of the simple Hoody and it comes with two front handwarmer pockets and velcro on both sleeves. If you're intending to use one of the newer VIPER models as a dedicated layering garment, then this is probably the one you'll want to look at, as the full front zip does make things easier in relation to mechanical venting. Should you feel that you're overheating a bit then you can easily open the zip by increments to increase airflow around your body core.
If you want to stick with something more traditional yet still with a full range of features, then the VIPER Special Ops Fleece Jacket is going to tick all the boxes. Made from a 250g/m2 polyester fleece, the "OPS" benefits from two zipped sleeve pockets with velcro panels, one zipped chest pocket, two zipped lower front pockets, elasticated cuffs and an elasticated waist draw string. This is a classic "tactical" fleece that will work equally well under a shell jacket or plate carrier.
My personal favourite though, when it comes to "mid-weight" fleece jackets, is probably the Aviceda from Clawgear. This lightweight mid-layer garment is extremely comfortable to wear and the modern styling allows a full range of unrestricted movement. It's made from a 100% polyester fleece fabric which both looks and feels great and high quality YKK zips are used throughout. The fleece itself is water repellent and breathes extremely well, making the Aviceda a superb layering piece. I especially like the low-profile hood which works perfectly in conjunction with a hard or softshell outer layer, effectively eliminating cold spots around the neckline.
The Aviceda also benefits from two lower, mesh-lined handwarmer pockets, pockets on both upper arms with velcro patches for team/unit patches and an inner pocket which allows routing for comms cables. The outer pockets are neatly trimmed with black fabric, giving the jacket a visually stunning appearance as well. Weighing in at just 410g, the Aviceda is easy to pack and takes up minimal space in a pack, so it's absolutely ideal if you want to stow it away "just in case". Overall, it's a superbly designed jacket made of high-end fabrics and components and the finish of it just oozes quality and attention to detail.
HEAVYWEIGHT!
A "heavy" fleece garment is just the thing for when it gets REALLY cold but I use that term only because the garments in question are "heavier" than their mid-weight counterparts! By way of illustration, the Clawgear Milvago MKII hooded jacket weighs in at just 750g and offers a whole heap of warmth! Clawgear have really worked their "technical knowledge magic" of fit and function into the Milvago; this heavier-weight fleece mid-layer garment is again extremely comfortable to wear, and styled with a dynamic tactical end-user in mind.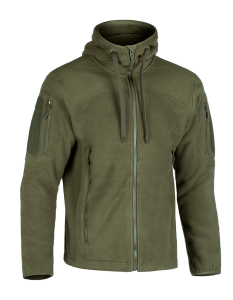 The Milvago also benefits from two lower fully-lined handwarmer pockets, pockets on both upper arms with velcro patches for team/unit patches and an inner pocket which allows routing for comms cables, plus the outer pockets are very low profile which gives the jacket a visually stunning appearance as well. Like the lighter-weight Aviceda, the Milvago is water repellent and breathes well; for me the hood is a great addition and it works amazingly well as a liner beneath an outer shell garment, giving seamless coverage up and over the neck.
If you want to look at the "grid" style of fleece though, then Helikon-Tex are real masters when it comes to fleece products and I've had one of their heavyweight hooded Patriot jackets in my gear locker for over eight years now and it's still wearable! They offer a fabulous selection of performance fleece products in various weights within their range, so you can custom tailor your gear to your own performance level or task.
The Alpha Grid Fleece is a superb example. This 100% polyester fleece is warm, comfortable and a part of Helikon's Urban Tactical line. It features a high collar with chin guard and a strong full-front YKK zipper, which can be fastened high around the neck. It also has one zip chest pocket with a comms port inside, two lower zip pockets and an elastic drawstring with cord locks on both sides sewn into the waistband. The cuffs are elasticated, tight enough to keep the arms from riding up, but not as tight as to be uncomfortable. The majority of the sewn seams are flat-locked there are zero abrasion points. The front face of the jacket is also mesh lined, adding to the overall insulative properties and giving some degree of wind protection. The collar is double thickness to again keep the elements at bay.
The fit of the all the fleeces featured here is quite technical, all of them fitting snugly to avoid creating cold "dead air spaces" when you wear them as part of a layering system. I'm normally an XL in jackets and in all the garments I've described sizing is spot on. If, however, you are still carrying a few "extra pounds" you might consider going up one size!
Excellent fleece garments are easy to find in good retailers (both dedicated tactical and good outdoor stores) and having a couple of different weights to choose from is certainly worth your investment. All the models I've quoted in this article are available in solid block colours, which means they are just as wearable for daily use as they are at a MilSim or on the skirmish field and if you look after them, they'll give you great service for years to come!