Airsoft Action are very pleased to report that we've just received a sample of the new TR16 SBR 308 MKII from our good friends at G&G Armament!
If you like the "big boy .308 style" then this unique rifle with its stunning modern styling shows just HOW great in-house design can be, and it features the beefy .308 style in a SBR style package, making it more suitable for rapid and dynamic movement in CQB/CQC environments, although we're certain it will be no slouch when in comes to outdoor games too!
The rifle features an M-LOK rail system, flip up front & rear sights, as well as a standard multi-position adjustable stock so just by fitting your battery of choice it's good to go from the box! The 40BB magazine is semi-transparent and contains dummy rounds for a cool, real steel style look, and upon emptying the magazine, the follower enables a cut off feature adding to realism! Internally, it's running the tried and tested G2 gearbox and comes with an extremely snappy trigger with great response. The gearbox is programmable to semi-auto, 3rd burst, 5rd burst, and full-auto. The rotary hop up is easy to adjust and just like the other TR16s will offer pin-point adjustment.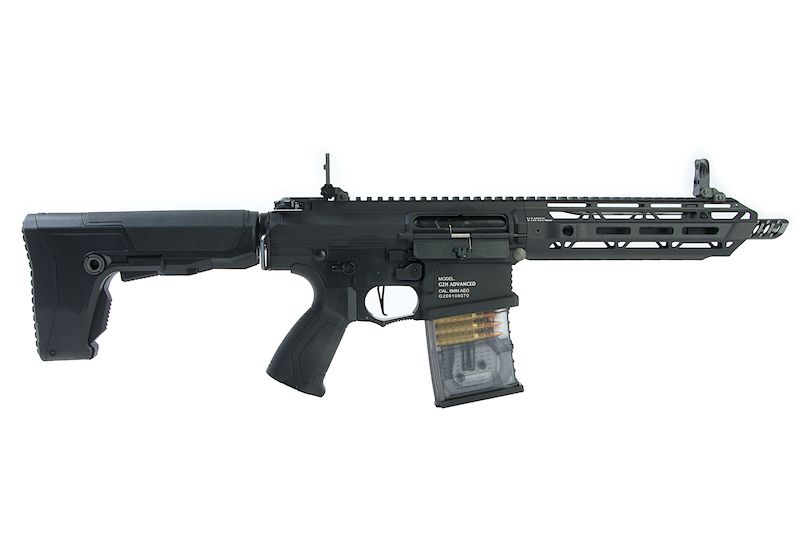 Features:
Length: 820mm
Weight: 2,773g
Magazine Capacity: 40rds
Power Source: Electric
Battery Connector: Small Tamyia
Shooting Modes: Semi Auto / 3rd Burst / 5rd Burst / Full Auto
Hop Up: Adjustable
Magazine Compatibility: G&G TR16 Series AEG Rifles
FPS: Approx. 330FPS +/-
We're getting the TR16 SBR 308 MKII out on the range shortly, and we look forward to bringing you the results of our testing and evaluation in a future issue of AA, so keep your eyes peeled!