While chatting to our good friends at Viper Tactical, they told us they were sending some items along to a Help For Heroes charity game in November and asked if we would help publicise the event – and it is our absolute pleasure to do so!
The guys behind the event are DinkSquad Airsoft and this is what team member Dave told us:
"The Team and I thought it would be a great idea to oganise a charity airsoft game for Help for Heroes as we all have family and friends that have served, or are still serving in the Armed Forces for our country and, because alot of airsofters are ex-soliders, it just seemed the best charity to help.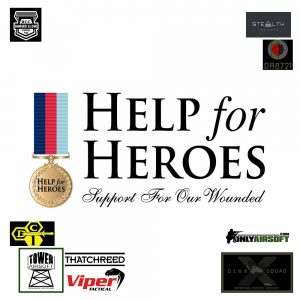 "The guys at Tower Airsoft in Billericay, in Essex, were nice enough to let us use the site, which is a fantastic place for this Charity Game Day, being held on the 13th of November. If anyone is wanting to come along, just message me on Instagram (@dyerz_airsoft), or @Dinksquad_airsoft to book a spot for the game. Its a UK£5.00 deposit for your spot and UK£25.00 for the game on the day.
"We will have a raffle going with some great prizes (if anyone wants to donate some prizes for the raffle, please contact me) and, of course, we will also have cakes and stuff for sale too. However, players will need to bring their own food and drinks, as we don't have a food truck on site – unless you know someone who can help…."