SureFire are amongst the most reliable – and relied upon – illumination devices in use today, with many police and military units depending on them for tactical lighting.
The new Micro Scout Light Pro Weaponlight retains the performance and durability of the rest of the Scout Light Pro range, with a recoil-proof LED that generates 300 lumens and provides 1.25 hours of constant runtime from a single, rechargeable AAA battery.
This is from the Press Release we received: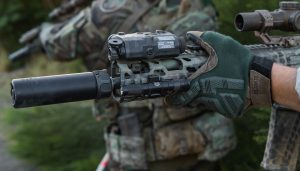 "The Micro Scout Light Pro is SureFire's lightest, most compact Scout series WeaponLight to date, ideal for those who primarily operate with NVGs but also need an extremely low profile and lightweight white light for navigation, SSE or CQB. It's an excellent solution for PDWs with extremely limited real estate, where profile and concealability are most important. The Micro Scout Light Pro offers maximum capability and exceptional versatility with minimal size."
…while the website tells us: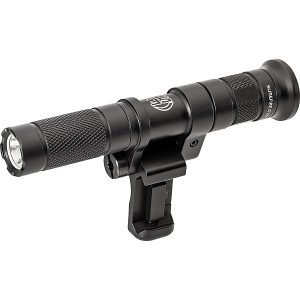 "SureFire's Low-Profile Mount (LPM) is a key factor in Scout Light Pro versatility as it allows users to mount their light as close to the weapon no matter the rail or configuration. Every Scout Light Pro model ships with both a MIL-STD-1913 mount as well as an M-LOK® mount. Like every Scout Light, SureFire also built the Micro Scout Light Pro for maximum durability. Its lightweight aerospace aluminum body is coated with a Mil-Spec Hard-Anodized finish and O-ring sealed to keep out the elements even when submerged in up to 3 meters of water for 30 minutes."
…and these are the Specs:
M140A Micro Scout Light Pro
Color: Black
Output: 300 lumens
Runtime: 1.25 hours
Peak Beam Intensity: 1,045 candela
Distance: 65 meters
Construction: Aluminum
Finish: Hard anodized (MIL-A-8625 Type III, Class 2)
Weight (w/batteries): 2.08 oz (59 g)
Length: 3.86 in (9.8 cm)
Bezel Diameter: 0.58 in (1.47 cm)
Batteries: One AAA, NiMH (incl.)
Switching: Click tailcap
For more information, click [HERE] to head over to the SureFire website.