At Airsoft Action we really enjoy our readers, happy – not just by giving them the best airsoft magazine we possibly can for FREE but also by giving away the most amazing prizes in our easy-to-enter competitions.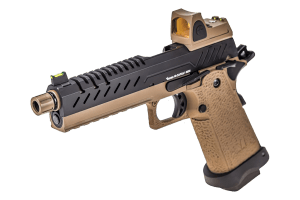 …and our competitions don't get much bigger than the one in the March Issue, where answering three simple questions could win a stunning "Black and Tan" VORSK HiCapa 5.1, complete with RDS, courtesy of Vorsk. But this was no "ordinary" (if there is such a thing) Vorsk Hi-Capa, it was the very first… #001!
So you can imagine how delighted he was when we called Robert Drew to give him the good news!
Robert commented: "I am very excited and pleased to have won serial number 1 of such a great pistol. I look forward to taking it out to my local airsoft site, Dog Tag at Holmbush, near Horsham. Thank you so much for asuch a great prize!"
Our pleasure Robert! It is already on its way and should be with you in the next couple of days. We hope you enjoy it as much as we did giving it away!
Keep watching for further competitions with great prizes in future issues and don't forget, Airsopft Action is now digital only and FREE!!