Inserting the ten-round magazine and racking the bolt was child's play. Far below was high-octane carnage: buildings were crumbling rubble, tanks on fire and iron coffins for their inhabitants, and soldiers fled as bullets kicked up dust. Tracer fire blinded and fiery explosions made mincemeat of scarpering cannon fodder. Perched and hidden amongst the steel works of an industrial crane, I sought my victim. Far below at a distance of 1,000 yards and partly obscured by concrete was an enemy sniper, unaware that the hunter was the hunted. Concealed and obscured by sunlight, all that was exposed was my victim's skull. Controlling breathing and dazzled by sunlight, the trigger of the M40A5 bolt-action sniper rifle was tantalisingly squeezed, the quarry and distance judged. Aiming above my victim to allow suitable bullet drop and with a mighty crack, the searing bullet penetrated his head as if a knitting needle slicing neatly through a ball of wool. With a pleasing splatter of crimson and shattered bone, his cranium dissolved into a mist of gore and it was endgame. Goodbye and welcome to the über-violent world of Battlefield 3.
A pseudonym for the English author and ex-SAS operative Andy McNab, was an essential and colourful insider giving important research on weapons and battlefield conditions for the Swedish blockbuster (it's also the best FPS ever… Period!) Stating that videogames are not a menace to society, produce positive role models and ultimately teach lessons of morality, McNab commented that there is no sufficient evidence to prove that violent videogames, as well as film, motivates people to take a life. But this is old hat, as before the advent of videogames and their mass popularity, the conservative dribbling-gullible had it in for rock music, Italian splatter movies and rap. Even horror comics…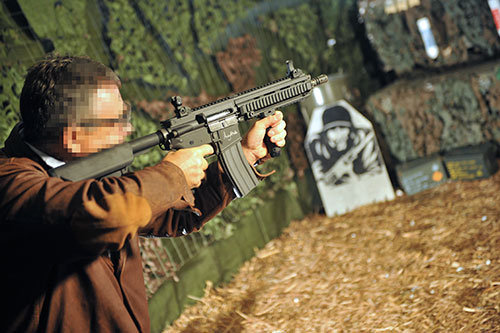 Untarnished by the hands of time, McNab had it tough when growing up in South London with poverty and foster parents. Growing up under such conditions, the young McNab – who possessed the reading age of an eleven year old when aged sixteen – led a life of petty crime and juvenile detention. However, he found solace in the Army and, while he may be one of the establishment's most highly decorated and famous soldiers, he now also ranks as one of their wealthiest veterans. McNab consequently served with the Royal Green Jackets in Northern Ireland, a dangerous hotbed of IRA terrorism. An excellent soldier under fire, he was chosen for the SAS in 1984 where he saw action all over the world, although many of his operations remaining classified to this day.
McNab became infamous on the now famous Bravo Two Zero patrol in the heart of Iraq during the first Gulf War, where he was part of a team that was tasked with locating SCUD launching sites. Flawed and desperate, the mission was scuppered and McNab captured, undergoing torture before returning to Civvy Street in 1993. He wrote the critically-acclaimed Bravo Two Zero, a best-selling military memoir and followed with Immediate Action, Remote Control and more. An established author where others such as Chris Ryan follow in his wake, McNab has now developed a taste for airsoft and entered the ring fighting fit with his iconic AM22 ( which stands for Andy McNab Two Two, the latter numbered after his regiment). Based on the iconic M4 and built and produced by VFC (Vega Force Company), Action Airsoft is proud to be the first and only magazine to test this cracking AEG as well as meeting McNab in person to chew the fat.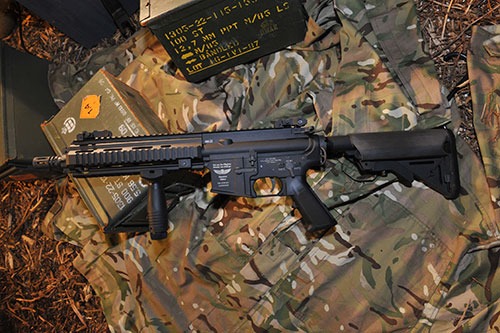 Immediate impressions are extremely impressive. Limited to 500 units, each rifle is autographed by McNab. Presented in suitable matt black with McNab's signature in bright silver, the delivery is somewhat on the "bling" side, but is a nice touch nonetheless, especially for the hardcore. The rifle is packaged in a superb gun case made from durable plastic with metal hinges, the inside being of a perforated sponge material for sturdy protection. Inside is a company brochure and the beautiful AM22 – so far, this is superb presentation and ranks as one of the very best we have seen.
M4s and AK-47 dominate the airsoft killing fields – hence this reviewer prefers to stand out from the crowd with more exotic weaponry such as the ICS M1 Garand and King Arms SAR Galil – and are nineteen to the dozen. With that being said, there has to be a reason for their mass popularity. Not only are parts moderately cheap and easier to source, magazines are often compatible and make a popular starter rifle. However, this particular and limited VFC and McNab model comes at a premium price for an AEG, at around £500. Only severe field testing will reveal if this incarnation of a classic weapon is worth such a high asking price.
Initial inspection of the rifle is certainly highly favourable. Made of full metal – bar the high-grade plastic foregrip and handle – the AM22 is somewhat on the heavy side, but not unfavourably so and is superbly made, its construction as if a battle-hardened panzer. Without a wobble or creak, this powerhouse of a rifle is solid and beautifully crafted. Not only is it a work of joy, the rifle feels right in the hands: it begs and warrants your immediate attention. Weight is well adjusted with a superb centre of gravity and also comes with two adjustable sights and rear stock – that also houses the battery – and rails on all sides for lights, lasers, grenade launcher, etc. True to the real steel, the safety selector is housed on the left-hand side and the magazine-release mechanism on the right. The mid-cap magazine that comes with the rifle is well constructed and light, with a 150-round capacity. Indeed and so far, this cheeky AM22 has started to grow on me: however, what of its performance in the shooting range?
Having charged the battery (only 45 minutes), what became instantly evident as a slight cause of concern is the battery compartment located in the rear stock. By fiddling with two levers in the back plate, the battery can be housed inside this tighter than tight compartment. Caution must be observed in fitting the battery inside and not forcing the issue due to possible damage to exposed and protruding wires, etc. – patience is paramount. Once plugged in, you're ready to rock 'n' roll. The magazine was armed with a selection of Madbull .20 and .25 BBs and the range was 150 feet in length on a warm autumn day: time to put this metal baby through her paces.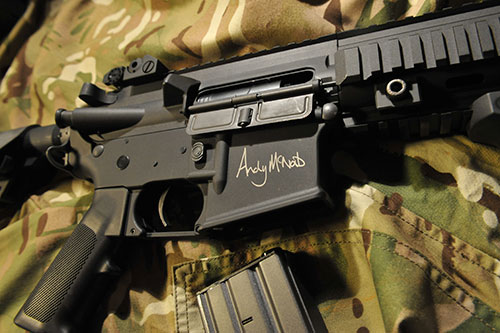 This is sweet and apocalyptic nirvana of airsoft machine gun cha-cha-cha, with the manic payload delivery of a furious lunatic. Feeding flawlessly and if possessed by a speed demon, the cycle rate of this rifle was truly astonishing and it never missed a beat. Each shot was on target with psychological fury, truly impressive with a distinct buzz-saw sound as if ripping cloth, and range and grouping was remarkable. So distinct and inspiring were its many qualities in the firing range that the AM22 quickly overcame – nay, stamped out with angst and sudden urgency – initial concerns on the M4 breed and repetition in the field. One became instantly impressed by its devastating performance, cycling and delicious punch, its range and accuracy truly outstanding. Not only was grouping spot on, the AM22 packed a serious wallop and its range to penetrate targets was suitably impressive. Each shot fed flawlessly and McNab's incarnation in airsoft was over-zealous to outperform, deliver and impress: it had done so with style and gusto. Not only is the AM22 suitable for CBQ, its long-range performance and accuracy make it perfectly ideal for woodland as a primary DMR and should hold its own with devastating effect. Indeed, the AM22 outperformed more financially expensive products and is highly recommended for its versatility and devastating payload delivery in the field.
Not only has this M4-hater been beaten into bloody submission and learned to love and respect this rifle, the AM22 has converted me to its ways. Firing was consistent and lightning fast, and range and performance spot on. The whole package reeks of the highest quality and this mini-Hiroshima of an apocalyptic M4 will not disappoint.
Andy McNab has truly delivered with a stellar and delirious riff of the M4.
Go. Buy. Now!