This is quite a long post but we hope you will read it through…
As the world shakes off the devastating effects of the last year, airsoft is emerging from its enforced slumber. Players are getting their gear on and getting their game-on, in ever-increasing numbers, in countries as far apart as New Zealand, UK and the USA, throughout Europe, Taiwan and Japan – plus all stops in-between, and Airsoft Action has a team in place to report on it all!
At Airsoft Action we have an incredible, dedicated team of contributors based around the world. Known as "The Airsoft Action Legion", they are all active airsofters, not "chairborne warriors" or "influencers", and they have worked tirelessly throughout the pandemic to help keep our game alive, by keeping you, our readers, up to date with all the latest and greatest developments as they happened – and sometimes even before they appeared in the public domain!
Whenever possible – and increasingly now that things are freeing up – they visit companies to talk to the people behind the AEGs, GBBs, consumables and gear we use, to find out what makes them tick and get the inside track on what's coming next. Companies such as NUPROL, VORSK, ICS, G&G, VFC, LCT, ARES, WE, SPECNA ARMS, ARCHWICK, LAYLAX, PERUN, JEFFTRON and many, many others have opened their doors and welcomed us in with great warmth, friendship and trust.
Of course, these companies also had questions for us and one we were (and still are) often asked, was why we decided to become a digital-only publication and how well is the magazine now doing?
So, we thought it would be a good idea to share exactly the same information with you as we do with our industry partners, after all, we are sure you want to actually know that you are reading the best, most informative airsoft magazine – not to just be told that you are!
Just under two years ago we stopped producing the paper edition of Airsoft Action and it became a digital-only publication, plus, at the same time we made the magazine FREE to read!
The question is "WHY?" – and the answer is actually quite simple…
Airsoft is played in nearly every country around the world and we could see from our statistics that the digital version of the magazine was spreading rapidly, being read globally and not just nationally. However, being a UK-based, printed publication meant we had to maintain a UK-centric bias to keep our presence on UK newsstands. In other words, it was holding us back; we had outgrown the paper edition, our audience was becoming truly global, and it was, quite literally, time for "paper" to go for many reasons!
We already published the digital edition on numerous digital publishing platforms and by adding a few more, were able to offer it fully to players around the world. No matter what country you are in, if you can get an internet connection, you can read Airsoft Action on any computer or digital device, via any of the platforms we use, as well as on the Airsoft Action website and free iOS and Android apps.
It also meant, as we no longer had to pay huge printing, distribution and logistics costs, we were able to make it FREE OF CHARGE – something we know every player who wants to spend all their spare cash on airsoft gear fully appreciates! And of course, we were also able to cut our "environmental footprint" to pretty much zero at the same time too, which should be of increasing importance to us all!
To answer the second part of the question as to "HOW WELL IS AIRSOFT ACTION DOING?" takes a little longer, although the actual answer can be summed up in just a few words… "BEYOND OUR WILDEST DREAMS"!
Two years ago (and in common with other printed airsoft publications), we sold a few hundred copies of each issue of the magazine, that's all. We know this to be true as the figures for other publications were available to us, just as ours were to them, laid out on a spreadsheet, with each copy sold being counted at the point of sale.
Digital publications, for all their simplicity, are more difficult to quantify, mainly because each platform tends to use their own method of presenting figures and some only produce "sales figures" (not much good when you are a free magazine!). However, they do have something in common, in that they present a count of how many times someone, somewhere in the world has seen/read/viewed a page of the magazine and, by simply adding them together, it gives us an indication of the total readership over any given period of time, as well as an issue-by-issue comparison.
So, for example, we can tell you that, as of midnight on 22nd June 2021, Issue 122 (February 2021) had been seen 49,304 times, Issue 116 (August 2020) had been seen 57,778 times and Issue 120 (December 2020), 83,751 times.
We can also tell you that the rolling 12-month figure to that date amounted to 551,817 – yes, that is WAY over HALF A MILLION times (not including the platforms that don't produce figures)!! And of course, once again this is not us giving you spurious and imaginary numbers as all our readership figures are independently verifiable at source with the digital platforms we use each and every month.
The final part of the question is "WHERE ARE READERS FROM?"
To answer this we can tell you that we are no longer "just a UK magazine", although our roots will always be there; please take a look at the map, it shows in which countries Airsoft Action has been read (source: issuu.com). The darker colours are where Airsoft Action is read most and the grey (if you can find it!) is where it hasn't been read …yet… and our ongoing mission is to turn that map darker still!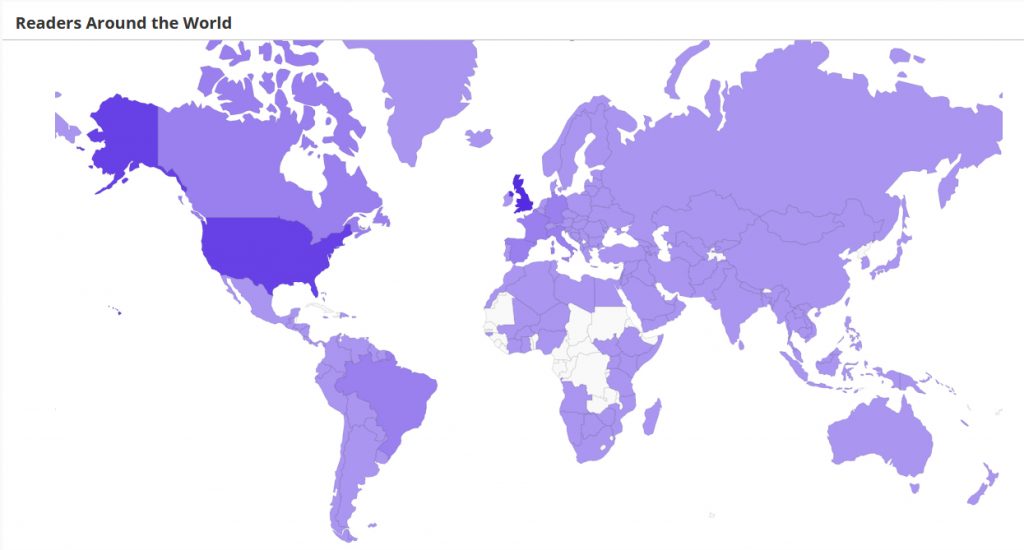 So, there we have it, this is why we are at the forefront of the airsoft media world, not because we say we are but because, YOU, our readers all over the world, say it by taking in our web news on a daily basis and reading the main magazine issue after issue! And you can be sure we are going to keep providing you with the very best free content we can, BY AIRSOFTERS FOR AIRSOFTERS, for many, many years to come, wherever you may be on this big old planet that we share as a united airsoft community!