Every year Airsoft Action reports from both SHOT in the USA and IWA in Germany to make sure that you get very latest news on what is to hit the airsoft market. "MOA" is rapidly becoming a yearly fixture too and once again Bill speaks to "our man in Taiwan" to get the lowdown on the 2019 show!
MOA is still a relatively new show on the international airsoft calendar – but one that's becoming more important. Taiwanese companies seem to be forging more new paths than ever before with some of the BIG names in AEG and GBB manufacture located there, so where better to get an idea of what's "new and improved" than quite literally "on their doorstep!"
Luckily Airsoft Action is blessed with many friends in Taiwan, so Bill got his head together with a fellow player and airsoft writer who is our "man on the ground in Taiwan", Stu Mortimer, to get the lowdown on this year's show.
AA: Hey Stu, welcome back to Airsoft Action! Could you give us an idea of what the show means to the community in Taiwan, both players and manufacturers?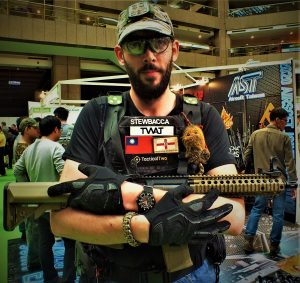 Stu: "MOA has seen growth every year since I attended its first iteration in December 2017, from its early beginnings in that smaller scale sports centre venue, to moving to the Taipei International Convention Centre just at the foot of Taipei 101 in 2018. This year Eric and his team have consistently attracted some of the biggest names in Taiwanese domestic airsoft gun and ancillary equipment manufacturing, as well as many visitors and exhibitors from overseas, both in Asia and further afield.
"The Military, Outdoor and Airsoft (MOA) exhibition is fast becoming an anchor point and key event in the calendar for anyone in the industry in this hemisphere or that's willing to make the journey from the US or Europe – and many are!"
AA: How big is the show?
Stu: "The last two years the show has occupied the whole ground floor of the TICC main hall, with around 80 individual stalls of varying sizes (ranging from shared floor spaces of smaller independent or upstart retailers, distributors, manufacturers or media operations), to the centrepiece stands of the likes of LCT, VFC and ICS which exhibit a wide range of their current and upcoming products, as well as some providing live firing ranges to test out their equipment or test the player's skills.
"It's great to see such a broad spectrum of various industry players, big and small, in attendance and getting real engagement from both airsoft specific, as well as domestic mainstream, media sources and hopefully painting the hobby and industry in an increasingly positive light than we all seem used to in our various corners of the world.
"It's obviously a good opportunity for players to get hands-on with new prototypes, as well as industry insiders to talk shop and grease the wheels of the industry whilst raising awareness of their products, services and the hobby and its benefits as whole."
AA: In your opinion who are the key companies that you saw in attendance?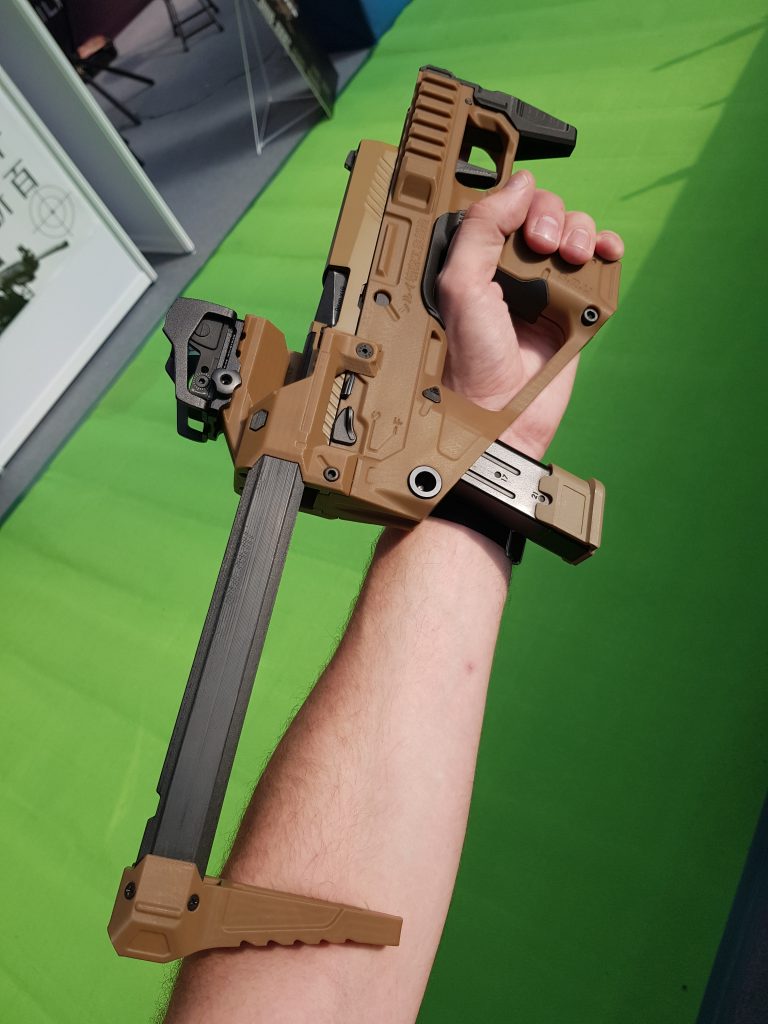 Stu: "In terms of domestic manufacture there is a broad spectrum of innovation going on right now in Taiwan. ICS have continued to forge ahead with new iterations of their onboard electronics we mentioned last year, as well as bringing new platforms such as their ARK Kalashnikov and CXP9 PDW AEGs and Turkish SAR GBB pistol, along with displaying more in depth information regarding their REVO option parts for improved gas efficiency, which they had displayed in a cutaway and exploded format for increased clarity.
"LCT are continuing their push to bring an ever increasing range of much sought after cold war and ComBloc weaponry to discerning players who want high impact in terms of both aesthetics and on their targets, with their Heckler and Koch and AK/RPK platforms receiving additional members to the family in this year's exhibition.
"VFC impressed – and perhaps surprised – a lot of people with their move into a similar demographic, with the announcement of their GBBR FN FAL rifle platform, which was in a closed display case along with some of their similar sized battle rifle offerings and which is bound to pique the interests of folks back in the UK who have fond memories of the SLR.
"Bolt Airsoft have also delivered on their previous promises of fielding MP5k and PDW variants of their Bolt Recoil Shock System AEGs, as well as displaying a work in progress AKM variant based off their previous success with the AKSU74 I saw under development on my previous factory visit to them and which has gained great interest since its release.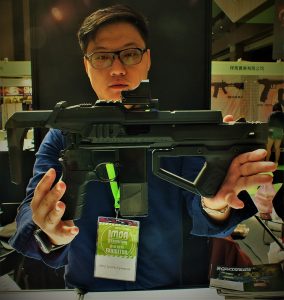 "Modify perhaps deserve a larger share of the accolades this year, finally completing the typical manufacturing arc many companies seem to follow in terms of starting out as option parts manufacturers, then making pneumatic/bolt action guns, entering into their own AEG platforms and now finally bursting into the gas blow back scene in a somewhat daring fashion. Bucking the trend of many manufacturers new to GBB platforms who play it safe and create derivatives of proven Marui component compatible designs and emulating typical real steel models, Modify chose to gamble on something their market feedback had demonstrated a clear desire for and a lack of existing products; thus they displayed their PP2000 PDW and an array of accessories under development or near completion. It's impressive to see them pressing ahead with such a niche offering off the bat."
AA: What were your personal high points in relation to Pistols?
Stu: "GHK joined the ranks of shock releases by bringing to market a brand new variant of the Glock 17 Gen 3, their first foray into pistols, being known mainly for their extensive range of heavy recoiling, durable and quality manufactured GBBR platforms.
"Many immediately questioned the mentality of "another Umarex licensed Glock?", given that VFC so recently brought their range to market with the blessing of the German umbrella license holders. However, seeing is believing and I was able to get hands-on at their booth and strip down their new offering, as well as talk to their production and marketing teams to get an insight into what's so different about it. Hopefully I'll manage to get a site visit in during early 2020 as well and be able to report in more depth regarding their capabilities and plans.
"Like Modify, they have gambled with their first entry into a new venture and while it looks like "just another Glock" externally, once you pull it apart you can see they've totally redesigned the operating mechanism, eliminating the typical Marui style internal hammer with a roller that re-cocks it during cycling and opting for a much more realistic drop sear released internal striker (albeit the striker sits in the frame and hits the magazine gas valve, rather than being integrated into the slide like a real Glock). Needless to say, they have achieved leaps and bounds through their risky R&D heavy approach and will be releasing lightweight aluminium green gas and CO2 ready magazines to make use of their enlarged gas cylinder and piston, which makes better use of the space no longer needed to house a swinging internal hammer."
AA: Same question, but for "long guns"; what caught your eye, and why?
Stu: "This one is perhaps more difficult to pin down. I'm an avid fan of LCT & ICS' offerings for their build quality, attention to customer demands and bringing interesting variants to market but VFC have captured my attention with their FAL offering, while Bolt's range continues to grow with an appealing build quality and recoil experience.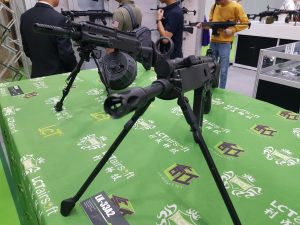 "Rare arms were also on site and showcasing their latest shell-ejecting Armalite model, which I'd seen the internals and empty casings of under development at their stall last year. This, coupled with an electronic shooter training system, they were demonstrating the potential for practical shooting training or applications, letting customers get hands on with the guns and projector-based games system (dry firing, of course). Unfortunately I didn't get around to having a go myself, as I only had one day on the floor this year and they were understandably drawing a crowd and a queue.
"However, I spent a bit more of my time at the Specna Arms stall. I've been writing about a lot of their range through my work for Combat King Monthly out here and wanted to get a better look at their offerings and see whether they were doing anything different. Their externals are fairly familiar, with a wide range of Armalite-based platforms being joined by AK and G36 platforms and with further, more modern HK weapons nearing release as well.
Piotr and Marcin caught my attention with their demonstration of what had taken most of my interest during my previous writings about their products, their onboard electronics and very fast spring change system. With bluetooth connectivity capability nearing market release and making use of both Gate Titan trigger control units and their newer miniaturised Aster range, SA seem to be offering an awful lot of features and functionality for a reasonable price range and good build quality. With programmable control units you would expect to see on premium priced Marui, PTS, Bolt or APS offerings, but with a range of prices and models more suited to newer players and bringing the functionality to a wider plethora of gun models, all potentially programmable with a mobile phone in seconds!"
AA: In relation to clothing and gear, who was leading the way?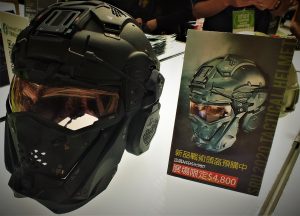 Stu: "Eye protection, or general personal protective gear, seems to be an increasing focus, which is good to see as I'm always a proponent of it being the most critical part of any airsofter's gear, having seen or had some narrow misses with eyes – as well as having had one and a half teeth shot out during my time in the UK!
"HYZ are a Taiwan-based start-up who travelled with me and CKM to Changsha and the 4th China War-Game Tournament in October, providing high quality and safety rating approved ballistic glasses in a range of tints and frames, all of which are ruggedised but also flexible and can be interchanged by snapping out the lenses with a decent amount of twisting force. They were displaying a test sample of their thicker lenses, which had absorbed multiple rounds of high FPS shots at point blank with minimal deformation and no fragmentation or separation. They aim to bring high quality eye pro at a more affordable price point, certainly for the domestic market, given that I've always used ESS for the last decade but over here they are fairly expensive given the weaker currency and earning potential of Taiwanese players.
"Wiley-X and local outfits KAM Tact and QEF design were also displaying new ranges of eye protection solutions, so it's encouraging to see so much market attention is being given to protective equipment given the ever-increasing capabilities to throw plastic downrange, especially with consideration to higher or unregulated local site limits in some environments.
"Field equipment-wise, Laylax were on site showcasing not only their latest gun accessories but also baggage solutions, such as their modular pistol carry case which has been well received by the market and apparently inspired imitation elsewhere.
"Warchief, who I had also first encountered in Changsha, were also on site selling a vast array of combat clothing and carrying equipment, as well as the ever popular plaid shirts; Garand Thumb has a lot to answer for in terms of fashion, even among my own teammates!"
AA: MOA seemed to be well represented in terms of international airsoft media, who did you bump into?
Stu: "This year I managed to make time for my first MealSim! Last year I had to leave the show early and get to the opposite end of the country on personal business but this year I spent a few nights in a row out with various locally and internationally based faces in the industry.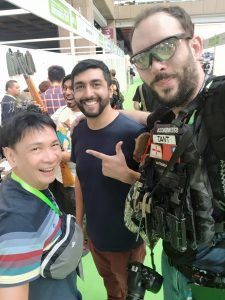 "Living in Taipei itself as of August, after I moved from my old posting in Zhubei, it's now far more convenient for me to hang around town and not worry about getting the last train home! So naturally I was a dirty stop-out and met Vic from Popular Airsoft a few nights in a row for food, drink and war stories, as well as the Polish boys of WMASG, arriving in time for a Thursday night out that involved beers, Jagerbombs and friendly banter and "man-hugs". The Swedes of airsoft.nu arrived in time to join us for MealSim along with fellow "resident foreigner", Jonathan of Airsoftology and the Laylax team who were visiting from Japan to exhibit and explore.
"Legendary gas blow back godfather, Tanio Kobayashi, also made an appearance at the show, giving an on stage interview about his exploits and long standing history of production in the pistol market, as well as visiting local manufacturers to impart his wisdom over the days following the show. Me and a few of my industry friends and teammates managed to swag some awesome personally signed posters of the man himself!
"We all had a blast and it's always great to meet these folks as well as the local player base, media operatives, sales and manufacturing teams and generally press the flesh and share ideas with folks, as well as see what's hot and new in terms of products. Next year I think I'll book the whole three days off my day job and sort out a Press Pass, so I don't have to compromise on my time and miss out on things. Roll on November 2020!"