Brand new to the airsoft scene, HUNTSMAN TACTICAL has hit the ground running with a range of AR-style AEGs that are skirmish-ready from the box! But who are they, and where have they come from, and are their AEGs "good to go" or just another brand joining an already crowded marketplace? Bill digs deeper to open your eyes to a series of well-priced ARs that may give you fresh options and make you the HUNTSMAN in-game!
When I look around the airsoft market there is one fact that is undoubtedly true, and that is that the "AR IS KING", and the different "flavours" and pricepoints illustrate to me the quality of what is on offer on the market currently for AR AEGS. The fact is that these days you can have a great-looking, fully-specced and functional AR AEG for very little money and this shows me just how far airsoft has come, and how lucky we all are to be airsofters today with so much choice!
Whatever your personal feelings may be about enhanced electronic and digital functions inside a AEG, as shown by the ongoing debate within our own Red Cell group, and indeed within virtually every online airsoft group out there, the fact is that there has never been so much choice, and so much functionality if you want it as there is right now, and airsoft is all the better for that!
If you take a look at some airsoft manufacturers then not only do they offer one "AR style" but in most cases they have an entire range of them! It's no wonder then that if you visit any airsoft site anywhere in the world, you'll find the majority of players using some kind of "AR/M4". Indeed, my very first "airsoft replica" was a spring AR in kit form which sadly was consigned to the great armourer in the sky many, many moons ago… I've personally always been into replicas of different and unusual models of firearm, but even so there have been ARs that have come and gone within my armoury.
I'm not going to get into the history of the real world AR as that's been done so many times before, but I will say that with a platform that's loved by civilian users worldwide, and in a military form that's been in service for many, many years, and adopted by many police and military units since then in one form or another, I can kind of get why pretty much every airsoft manufacturer out there produces the AR in one of its many guises. Add to that the interest in "USSOCOM" units amongst the airsoft community and the appearance of ARs in so many of the big movies, TV shows and games, and you've got to admit that making one is going to be a bit of a "win, win".

So, when the guys at iWholesales first showed me the new range of AR-based AEGs from their HUNTSMAN TACTICAL brand I was quietly excited! "Oh, great", I hear you say, "more ARs to look at". This is a phrase that many of us who review airsoft replicas often start an article or video with, and it's actually the way many of us feel when a manufacturer drops a new version (or in this case "versions", plural!) into the marketplace. However, when the "manufacturer" is one of the biggest distributors of airsoft replicas in the UK who deal with numerous premium brands and understand just what goes into a great 6mm BB-chucker then you'd better believe that is going to make me pay attention right quick!
WHAT'S IN A NAME?
You may ask yourself why a large-scale and professional distributor might go into making their own AEGS, and I certainly did, but then I remembered that iWholesales have actually been making their own airguns under their HUNTSMAN ARMS brand for some considerable time. I asked Tim at iWholesales about this and he told me;
"iWholesales has for some time had its own range of air weapons, mainly of the 4.5mm variety. The range has been growing as markets have evolved and changed, and it now includes an expanding array of air guns and accessories  in various calibres.
"For some time we have looked at expanding and including airsoft models; the ever changing nature of airsoft guns and specifically the internals means we can be as up to date as possible if we are choosing at manufacture exactly what goes into them and ensure our customers are getting the absolute best value from the products they can.
"The growing range has also brought about a clarification of name, anything airgun related now falls under Hunstman Arms, and the airsoft range is Huntsman Tactical"
Now there's something to look at in more detail in that statement, and the most important point to me is the comment "specifically the internals means we can be as up to date as possible if we are choosing at manufacture exactly what goes into them and ensure our customers are getting the absolute best value".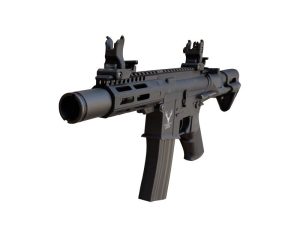 There's an initial range of six AR variants in the starting lineup for HUNTSMAN TACTICAL (HT), from a non-mosfet "Tactical M4" that would be a shoe-in for a "Mod 0" to some thoroughly modern-day ARs with all the bits we love, and they're all priced in that all-important "iro UK£175-230" bracket that seems to be the current sweet-spot for skirmishable AEGs. Without doubt there are AEGs out there that come in cheaper, but you'll be spending money almost immediately getting them up to proper fightin' spec!
Available in both metal and polymer when it comes to the externals (polymer and metal bodied AEG's with uppers and rails to match) apart from the "Tactical M4" the HT AEGs pretty much all benefit from the same spec when it comes to internals, and that spec is pretty darn good for AEGs that sit squarely in the "entry/intermediate level" price bracket!
Externally you get some righteous parts as standard like M-LOK rails and different muzzle devices, and there are lengths to choose from ranging from PDW to mid-length Carbine! In addition to the M-LOK rails that have numerous QD sling points, with the metal models you get a metal Upper and Lower Receiver with an engraved Huntsman Logo, CNC Aluminium Stock Tube, Metal Inner and Outer Barrel, Retractable Polymer Stock, metal Hi-Cap 300 BB Magazine, a Metal Flash Hider, (14mm CCW), and fully adjustable Front and Rear Flip-Up Sights. All the same features are replicated in the polymer models, so if you want the "look" then you can have it in a lightweight, "carry all day" package too!
HANDS ON
Although I had "hands on" with all the models, I had the HT M4 Short M-LOK polymer AEG to test, and I have to say that externally it's a very tidy AEG indeed! All of the parts have been put together with care and attention to detail and there's absolutely no wobbles or creaks anywhere. The receivers fit very well indeed, and although I would usually choose a metal-bodied version, the strength of the polymer parts appears excellent. There are a few very minor mould lines visible, but really only on the underside of the buffer tune, and everything else is crisp and precise.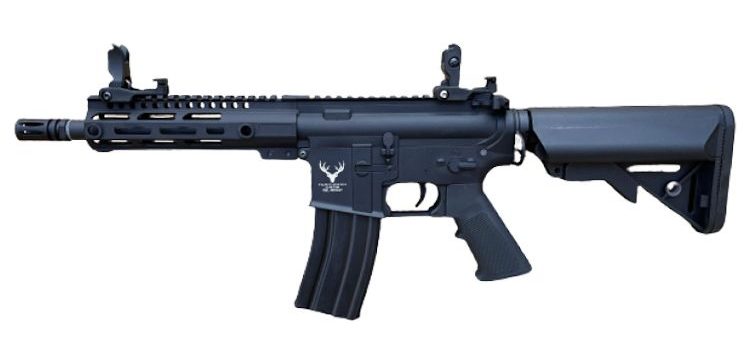 Internally things are very impressive for the pricepoint; starting with a slimline M4 Motor Grip housing a Hi-speed motor, what is obvious from the get-go is a Full Metal Gearbox with a quick-change spring function (an M90 is fitted as standard). Inside as standard you get 18:1 ratio steel gears with a sector gear delayer, 8mm solid Bushings, a 14 tooth steel piston and a red anodized cylinder for improved air seal. In terms of wiring the models have a  Mini-Tamiya connector in the buffer tube with shielded low resistance wiring throughout, and 16AWG shielded wiring to that easy-to-damage rear section.
You also get as standard an electronic trigger AND a built in Mosfet; by "built-in" I mean that this is carefully placed inside the body of the AEG and not in-line with the wiring in the buffer tube so as protect the electronics and give maximum battery space! This is one indication that this is indeed an AEG platform that has been well thought out and designed by folk who understand the very nature of airsoft, and where possible pitfalls may lay… and I like it! Tim told me that;
""Unlike most RIF's aimed at the entry level market, the entire Huntsman range comes pre-fitted with an electronic trigger unit and a mosfet. This is built into the gearbox itself, not an add-on in the stock tube, and gives a crisp reliable trigger response, usually only seen on replicas of a much higher value."
DOWNRANGE
How does this all transfer to performance you may ask, and first let's get power levels on that M90 standard spring logged; downrange using an 11.1V 1000mAh LiPo and .20g BBs I got a mean reading through the chrono of 1.05 Joule/337fps which is perfectly acceptable! The HT models all come with a basic battery and charger, and this is probably the only thing in the package that I personally would replace straight away, although it will be perfectly adequate to get your rolling if this is your first AEG.
The flip-up sights that come as standard are excellent, and indeed are sturdily made of polymer, so the HT M4 is ready to roll straight from the box just by adding a battery and some BBs, and the battery compartment is actually big enough to get most stick LiPos in, especially as there's no Mosfet taking up space! With the simple rotary hop set, at 30m unsupported it was easy to get hits on a torso-sized target with each BB flying straight and true as new. As usual I also tried the HT on the 10m "short range" and it performed superbly in rapid, target-to-target transitions, again in reality down to the responsiveness of the super trigger.
With a pricetag iro £175 here in the UK the HT M4 Short M-LOK polymer (UK£230 for the full metal) is a little more expensive than some, but it really gives a tremendous amount of quality and performance for the money. It looks great, is short and super-sweet, and shoots straight and far, so as far as I can see the guys behind HUNTSMAN TACTICAL have got this 100% right!
The launch of the new HUNTSMAN TACTICAL AEG models is a confident, superbly achieved debut, and shows just what a company that intrinsically KNOWS airsoft can create when they decide to. I for one look forward to seeing where the range expands, but for now I believe that the new AEGS will bring a lot of joy to many, many players out there, and enable them to enjoy the thrill of the hunt to the max!
Check out the whole range by visiting www.iwholesales.co.uk for more information and availability!