Well, here it is, MERRY CHRISTMAS!
It's the Christmas Issue of Airsoft Action and what a fun-filled, festively-fabulous filo-wrapped delicacy it is for you all to enjoy over the downtime that the season of good will brings to one and all!
In our last issue of 2022 we hope to bring you some additional Xmas joy!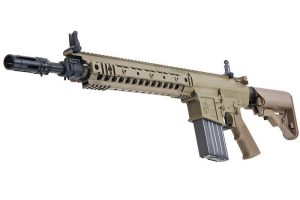 AEGs and GBBs? Yup, we've got PLENTY for you to get your teeth into as Bill brings home the bacon (joint!) after a lengthy and thorough test of the new M110K1 GBRR from VegaForceCompany, doubles down on two uprated ARs from SPECNA ARMS, checks out a budget "SR47" from Double Eagle, and continues into Wick-land with a tasty little morsel from Double Bell!
And for his main course he serves up a RED CELL SPECIAL that covers the weapons of the Falklands War as we commemorate the 40th Anniversary of the conflict, with a platter of airsoft platforms… just season to taste!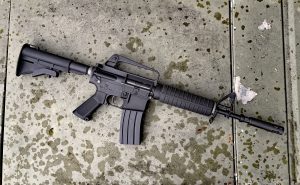 But that's not all as Dan brings in a tasty side order of TECH as he outlines an XM177 build based on a KWA recoil donor, and Miguel delves into the ARES ALPHA game logistics package.
Of course we can offer you delicacies from further afield too to tickle your airsoft palate!
Have you ever fancied playing on a warship… but without leaving dry land? Larri finds unusual and unique site in Hong Kong as he details gameplay aboard a fantastic "Battleship without a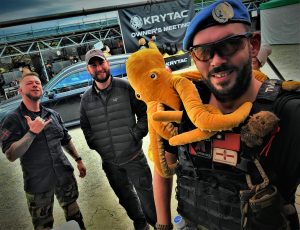 Tide"! Our "Man in Taiwan" and new Deputy Editor Stewbacca has been crazy-busy both at home and further afield, and this month he lands two awesome reports with a truly massive write up of THE KRYTAC OWNERS MEET in Japan.
Don't worry though, a supmtuous dessert comes to you by way of THE AA LEGION; what do they really, REALLY want for Christmas, and if you're heading out to walk off all this rich fare, as in TOD we look how to put all your winter gear together to be most effective!
Sadly though, we say a heartfelt farewell to Frenchie this issue; he's finally decided to hang up his FAMAS, but it wouldn't be the CHRISTMAS ISSUE without our resident "Tactical Viking" Bjorn on the cover, now would it?
Some traditions should be cherished after all… and a glass raised to "absent friends"…
From all of US at AIRSOFT ACTION we wish all of YOU out there in the big wide world of airsoft a VERY HAPPY CHRISTMAS, and we'll see you in 2023!
And nobody mention "WHAMAGEDDON", at least for a few more days…
Airsoft Action is FREE TO READ on the Airsoft Action website (www.airsoftaction.net), plus all of these digital publishing platforms:
Issuu: http://bit.ly/3VV7UeJ
Yumpu: https://bit.ly/3FRDCUI
Flickread: http://flk.bz/hoGo
PocketMags: https://bit.ly/2YDCpcZ
PocketMags+ (All You Can Read subscription service): https://bit.ly/37sTYQZ
Readly (All You Can Read subscription service): http://bit.ly/2QiS5yL
Magzter: https://bit.ly/3r9qDFk
You can also grab the FREE Airsoft Action app and take your entire library with you, to read whenever you like, wherever you are!
Airsoft Action iOS App: https://apple.co/2WlabU2
Airsoft Action Android App: https://bit.ly/3h1ufCu