SIG SAUER, Inc. have just announced a two-volume Vickers Guide series featuring SIG SAUER pistols, submachine guns, rifles, and machine guns. Vickers Guide is a collector-quality assortment of books covering a wide variety of firearms with content that has been sourced and curated by Larry Vickers, a twenty-year U.S. Army Special Operations Veteran.
"We are honored to be the first firearms manufacturer featured by Vickers Guide, and excited about the release of SIG SAUER (Volume 1). The book chronicles the company's history from our beginnings as a German arms maker in 1751 and Swiss wagon factory in 1853, to becoming the premier American firearms manufacturer that we are today," said Tom Taylor, Chief Marketing Officer and Executive Vice President, Commercial Sales. "The content in this Vickers Guide is exceptional and will take the reader on a historical journey of SIG SAUER through the development and modernization of our firearms. The guide takes a deep dive into the iconic P210, chronicles the development of the P365 to become the top-selling handgun in America, and charts the evolution of the P250 to the P320 to ultimately become the M17 and the official sidearm of the U.S. Military, and so much more."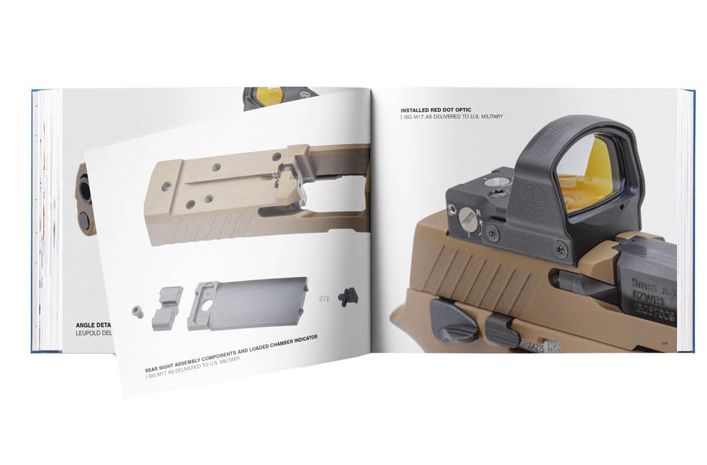 Vickers Guide: SIG SAUER tells the story of SIG's history with authors Larry Vickers, Ian McCollum, and the photography of James Rupley. Vickers Guide: SIG SAUER (Volume 1) highlights over 95 pistols and 15 submachine guns from Europe and America including the Swiss P75 service pistol, X-SERIES pistols, the early SIG submachine gun the Modell 1930, and initial MPX prototypes. Vickers Guide: SIG SAUER ( Volume 1) is now available for pre-order at sigsauer.com, and is set to begin shipping in November 2020.
Vickers Guide: SIG SAUER (Volume 2) will highlight rifles, machine guns, including the SIG SAUER MG-338 and SIG SAUER MG-6.8, and other special purpose weapons and will be released in 2021.
If you're a fan of what SIG SAUER produce then both volumes are going to be "must haves", and we'll certainly be picking these up to add to the Airsoft Action reference library!