Self-proclaimed Glock-hater, Steve T, tries out VFC's latest officially licensed pistol to see if he's been missing out.
Let's get a couple of things straight from the get-go…
First, I'm a straight-up Glock hater – not even an apologist; I just don't like the things. Yes, I know they "just work" but, in my humble opinion, the only reason they win government contracts over superior offerings such as Beretta's M9 or the Sig 226, is that they're built down to a cost. And they've only become so ubiquitous in airsoft because of those same contracts.
Second, I don't like guns in hearing aid beige. Think of any RIF ever – pistol, rifle, whatever – and chances are that it will look more badass in matte black. As far as I'm concerned, it's just a law of physics up there with gravity.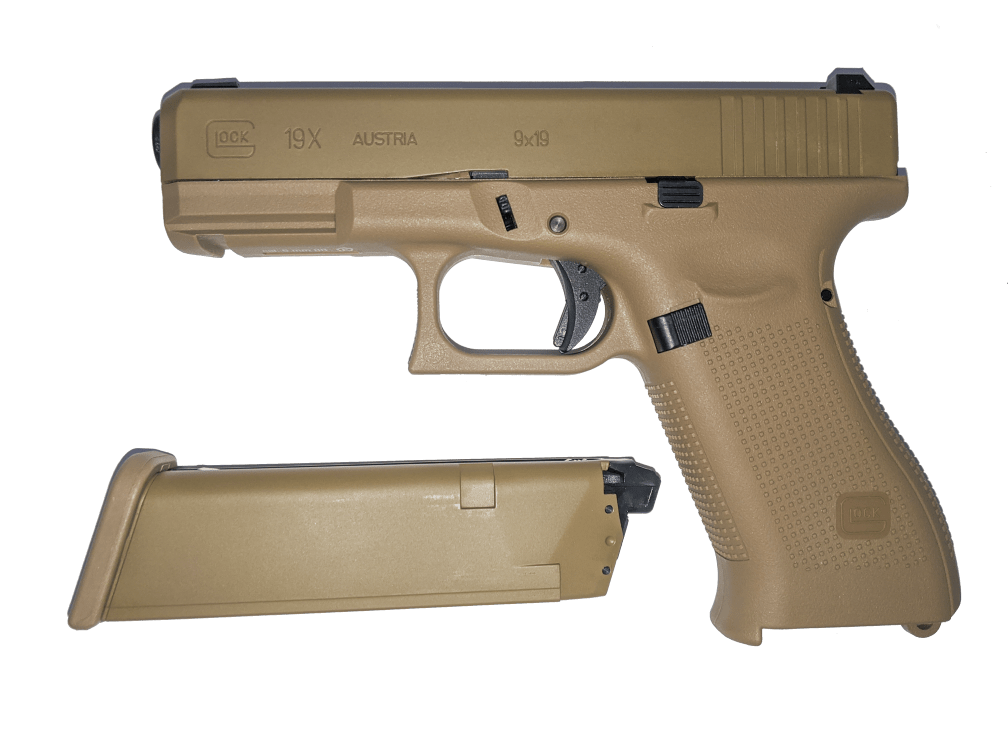 So, can you think of anyone less suitable to review a tan/coyote brown Glock such as the 19X we have on test today? No, me neither. But you know what? As an open-minded critical thinker, I'm always happy to question my assumptions and you might be as surprised by my findings as I am…
MAY THE VEGA FORCE BE WITH YOU
After years without an official airsoft option licensed by Glock, Umarex finally sealed the deal and subsequently assigned Vega Force Company (VFC) to manufacture pistols for the brand. Admittedly, VFC's subsequent charge on the market with a range of models could rival Max Verstappen on the first lap of an F1 race, but that doesn't seem to have been at the expense of quality – if anything, quite the reverse.
VFC could have simply chosen to add those all-important trades and ramp up production on their existing models but by all accounts, the results were altogether better from the get-go. I've owned a number of VFC pistols over the years and they've always been "OK". Way better than the lowest common denominator, but still a tier below the premiere league. But since being founded in 2004, VFC has continually improved its offerings. A couple of years ago the company released its Avalon M4 series in direct competition with the likes of Krytac's Trident range – and matched them blow-for-blow. I hope to bring you more on exactly that battle in a future issue.
Strictly in terms of VFC's Glock offerings, the consensus is that while earlier models were accurate but not entirely effective, the latest models have matched the company's ambitions for its M4 range. So, can the G19X achieve nirvana or is it just no fun?
GENETICALLY SPEAKING
The G19X is an odd proposition. Imagine Glock's boffins left the office for the night and a stubby G19 got together for party time with the larger framed G17 to produce the 19X. It might sound like a parts bin special, but based on this evidence, that unholy union is genuinely greater than the sum of its parts.
Simply put, the 19X features the shorter slide of Glock's 19 newcomer, with the full frame of the time-honoured 17. And you know what? The result is better than anything that came before.
America's Navy SEAL sidearm contract may have famously been awarded to the Glock 19, but regardless of the fact that either model has been proven effective at bad breath distances, there's no escaping the fact that big hands will fall off the end of the 19's grip.
As a result, the G19X has been developed to combine the quick draw potential and pointability of the 19, in the 17's fit for man-sized hands. As a result, you can mimic the new SEAL sidearm without feeling too dainty.
I love it!
THE NEXT GENERATION
Today though, we're looking at the official airsoft incarnation of the totally trick G19X and boy, is it a treat. That full-size frame comfortably accommodates even the largest hands, while the shorter slide makes the G19X both quicker to draw and easier to wield than a more conventional G17.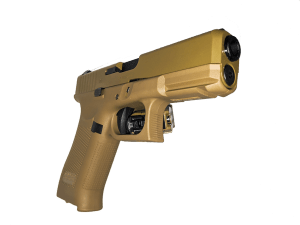 I bought this pistol at full retail because I thought it looked cool, seemed like a solid performer and promised real-world benefits for airsoft. I wasn't disappointed – with some caveats.
I've owned several VFC pistols over the years, but the 19X is in another league. From the moment you take it out of the packaging, you know that this is a tier one offering. There's a beautiful contrast between the matte polymer frame and satin metal slide that needs to be fondled to appreciate. It both looks and feels beautiful.
You've probably seen the same online reviews saying this is the best VFC Glock ever and who am I to disagree? With limited exposure to previous – more conventional – models, I can tell you that the 19X's construction is more solid, with deeper, almost luxurious coatings to the slide, improved texture to the frame, plus sharper trades.
THE NEXT NEXT NEXT ETC GENERATION
I'm far from an expert on the various generations of Glocks but as far as I know, the G19X grip is modelled on the Gen 5. The loss of finger grooves on the grip might seem like a step backwards in terms of ergonomics but in practice it means that the grip will work better for more hands, more often. The pimpled texture is similar to that which I last encountered on the FNX-45 that also ensures a firm grasp on the grip. I approve.
Another benefit to the 19X's ergonomics is the slight flare to the front of the magwell that further improves comfort for larger hands, but regardless of your glove size, you'll be greeted by a beautifully matte texture with the traditional Glock recess for your thumb.
Like most pistols, the G19X might be a predominantly right-handed affair, however, not only is the slide release truly ambidextrous but lefties can also swap the mag release to the other side.
The G19X also features chamfered contours to the front of both slide and frame that are designed to make re-holstering the weapon easier. I can't speak to the improvement but I certainly experienced no difficulties with this incarnation.
And as you'd expect, the G19X features Glock's usual scissor trigger safety that blocks you from shooting unless you finger covers the entire width of the trigger. It works perfectly.
FROM GLOCKALIKE TO GLOCK OFFICIAL
VFC may have produced "Glockalikes" prior to Umarex awarding them the license, but since then VFC has taken every advantage. And who could blame them? To the left of the slide is engraved not only the Glock logo, but also "19X", "Austria" and "9×19". The right of the slide carries a serial number that matches the one on the ejection port – as well as every other VFC G19X.
And unlike copycat versions, you'll also find that both front and rear sights are chunkier and feature full branding. You'll also find the Glock logo to the bottom left of the grip, while the right side reads "Officially licensed product of Glock".
One neat touch we particularly like is that the butt of the magazine also shows the Glock logo. To recharge with gas, you'll need to lower a lever in the mag to slide the butt plate forwards, revealing the fill valve. It might sound like a pain, but not only does it help make the RIF look even more R, it also only takes a second or two. And unlike previous offerings from competitors, that same mag is also beautifully brown all the way up to the black feeding lips. The way that the attention to detail extends to the magazine is a good example of the way that VFC has upped their game for this licensed release.
That said, while the 19x comes with a lanyard point, it lacks the included interchangeable backstraps of previous Glock models. It's no big deal, but it would be nice if VFC made more options available in the future as aftermarket accessories to help owners customise the pistol to their needs. I'd certainly be happy to spend a few more quid for a slightly chunkier grip.
YOU HAVE THE BRIDGE, NUMBER ONE

Using green gas and .20 BBs, we measured the G19X at an average of 260FPS/0.63J, with a low of 237/0.52 and a maximum of 286/0.76. That's about what we'd expect from a GBB pistol, even if it won't exactly set the world on fire.
The G19X might have performed without fault pelting .2s into an indoor target in a warm house, but it fell short on its first real outing. Not only was range down but it also fed just every other round. Had I bought a lemon?
Not only was it up against a cold winter's day using .30 ammo – the upper limit for most pistols to be fair – but also Bio BBs as per site rules from a less than mainstream manufacturer. Others in my team had feeding issues in other RIFs using exactly that ammo on more than one visit to the same site, so I feel confident the problem doesn't lie with the VFC. Back on the home range, I tested the G19X again with ammo of the same weight from another brand and it performed like a champ again.
You could say it's unfair to even mention these issues in a review, but I share my experience because you might encounter the same thing. If you do, then look at alternative ammo if you can before crying off entirely. To be clear, back on the range using readily available BBs and the G-19X sent every round straight to the target every time.
And when it does? You can reasonably expect up to four reloads of BBs per gas charge. That's not only stellar performance, but it also outperforms the marketing claims of some high profile rivals. We're pretty impressed.
CONCLUSION
As someone that hates both Glocks specifically and brown guns in general, I'm happy to report that this brown Glock is now one of my favourite pistols. I know – I'm as surprised as you! But when all's said and done, how can you argue with something that looks great, feels great and works great?